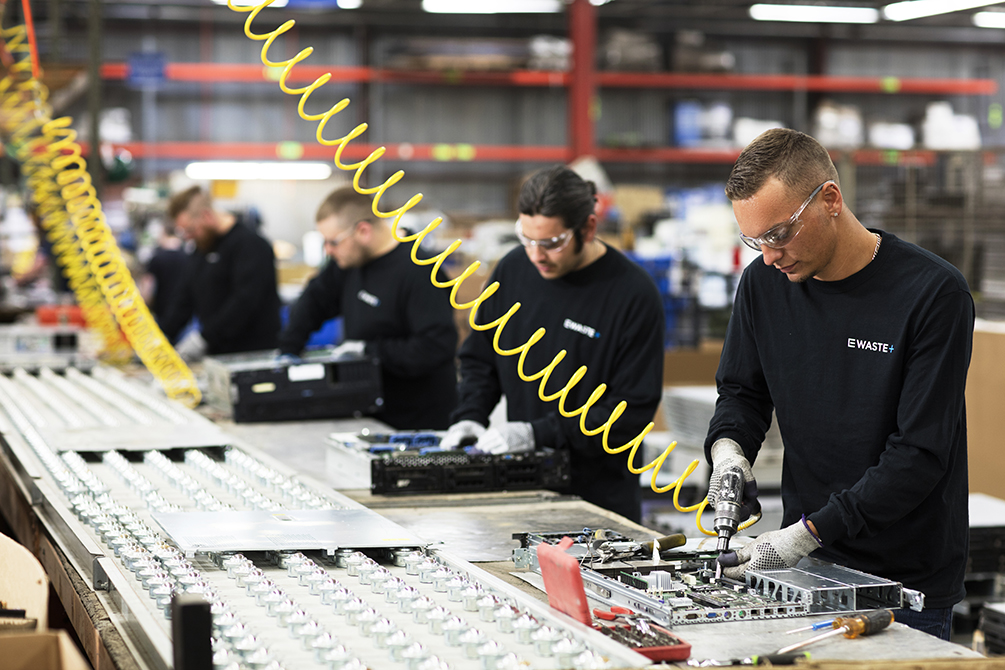 EWASTE+

Your Trusted Leader in

IT Asset Disposition (ITAD)

Services.
We guarantee excellence as a leader in IT asset disposition services, providing transparency and efficiency to create a sustainable solution for our customers.
IT Asset Disposition

, also known as

ITAD

, is a necessary part of the growing IT industry.
As this field continues to grow, it requires an efficient way of disposing of obsolete or redundant equipment ethically and sustainably. In addition to environmental concerns, data must also be handled diligently, ensuring that data is destroyed properly before devices are recycled or disposed of.That's where EWASTE+ comes in. As an ITAD company, we provide you with an easy and straightforward solution to dispose of assets that are no longer needed for your business.
As New York State's most accredited and trusted ITAD supplier, we maintain a robust local presence as an environmental steward. This means that we can provide you with data and reporting based on our transparent asset disposition practices so that your business can promote its positive environmental impact with certainty. Our team is trained in proper data destruction procedures to ensure that your business is compliant with global privacy laws as well as New York State's SHIELD Act legislation.
Customized Logistics
We work with you to develop a customized logistics plan that meets your company's needs, from one pallet to a full tractor-trailer load.
Highest Industry Certifications
Trusted to use the latest data destruction technology, we are New York State licensed, R2/RIOS™ certified, and NAID certified Data Destruction Specialists.
Flexible Programs
Customize your IT asset disposition program based on your company's data capture and data destruction requirements.
Achieve Maximum ROI
Through our remarketing network, you can achieve a maximum return on investment from your obsolete or redundant IT assets which may offset the cost of your ITAD program.
Reach out to one of our dedicated account managers today so we can develop a custom solution that addresses your unique needs and product mix.
Certified On-site and Off-Site
Data Destruction
Secure your business' future with proper data destruction services. No matter how your data is stored, proper handling of data erasure requests is essential to maintaining your company's trade secrets and sensitive personal information.
EWASTE+ offers sustainable and discreet services for hard-drive shredding and sanitization both on-site and off-site. Our team can provide services that fit your business needs, destroying data according to New York State and Federal regulations.
On-site data destruction and sanitization services are convenient and allow clients to witness the destruction process; our technicians inventory each hard drive or media device before feeding them into mobile shredders that destroy the assets and make data retrieval impossible.
Off-site data destruction and sanitization is handled by our team of certified technicians who inventory data bearing assets that are then destroyed at our state-of-the-art facilities. Equipped with the latest shredding and data destruction technology, the EWASTE+ team disposes of the data in accordance with top security standards.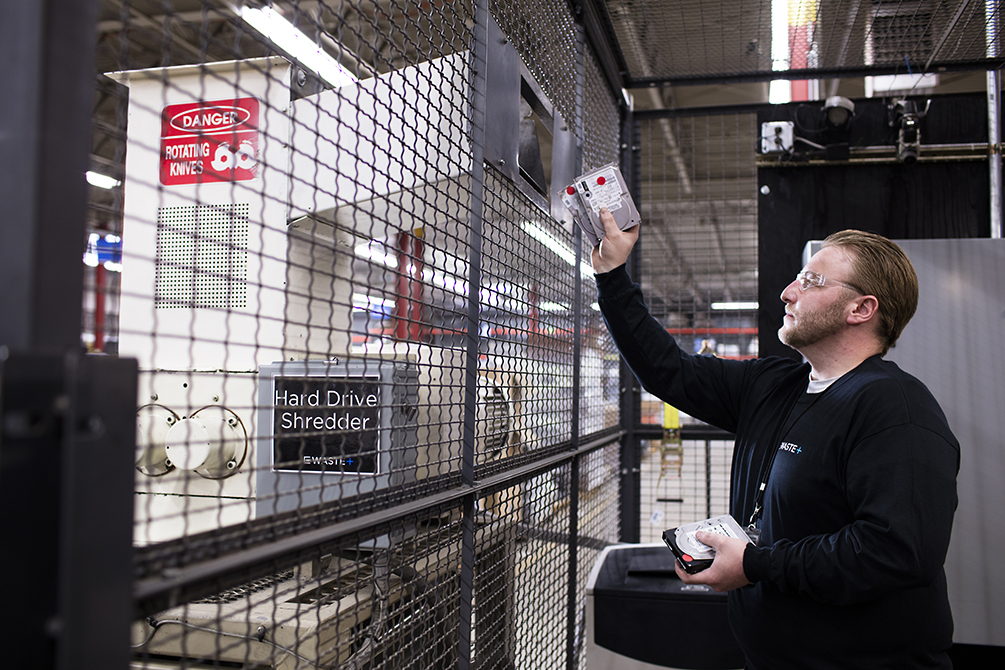 Certified Asset Destruction
When recycling and reuse of data bearing devices is not an option for your company, it's important to dispose of your redundant assets in a way that protects your business' data or your organization's intellectual property. This includes preventing used assets or product returns from entering the secondary market.
EWASTE+ offers a full suite of certified equipment destruction services that allow your company to verify proper disposal including by video, in person, or based on security needs.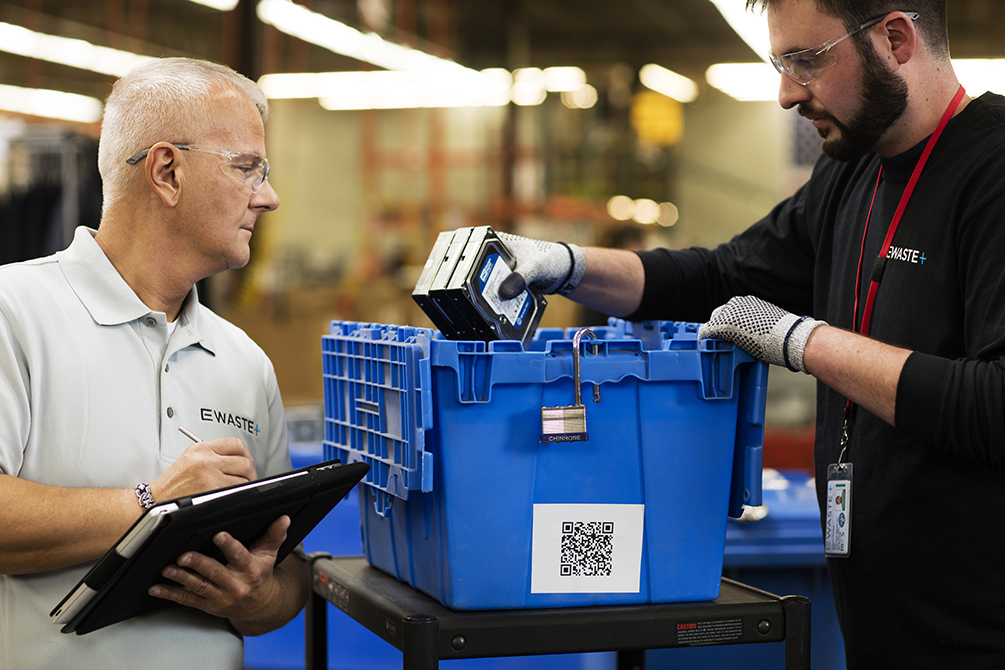 Flexible Programs
EWASTE+ offers clients an exceptional level of flexibility in data capture and destruction programs, allowing you to customize the frequency of data pickup based on your company's requirements. Whether you are looking for a one-time, weekly, or annual pickup schedule, we can provide transparent and flexible reporting and program terms to fit your needs.
Flexible data capture and data destruction services allow you to customize the range of services EWASTE+ handles, from full data capture and destruction on data bearing devices to serialization and inventory reporting  of non-data-bearing devices.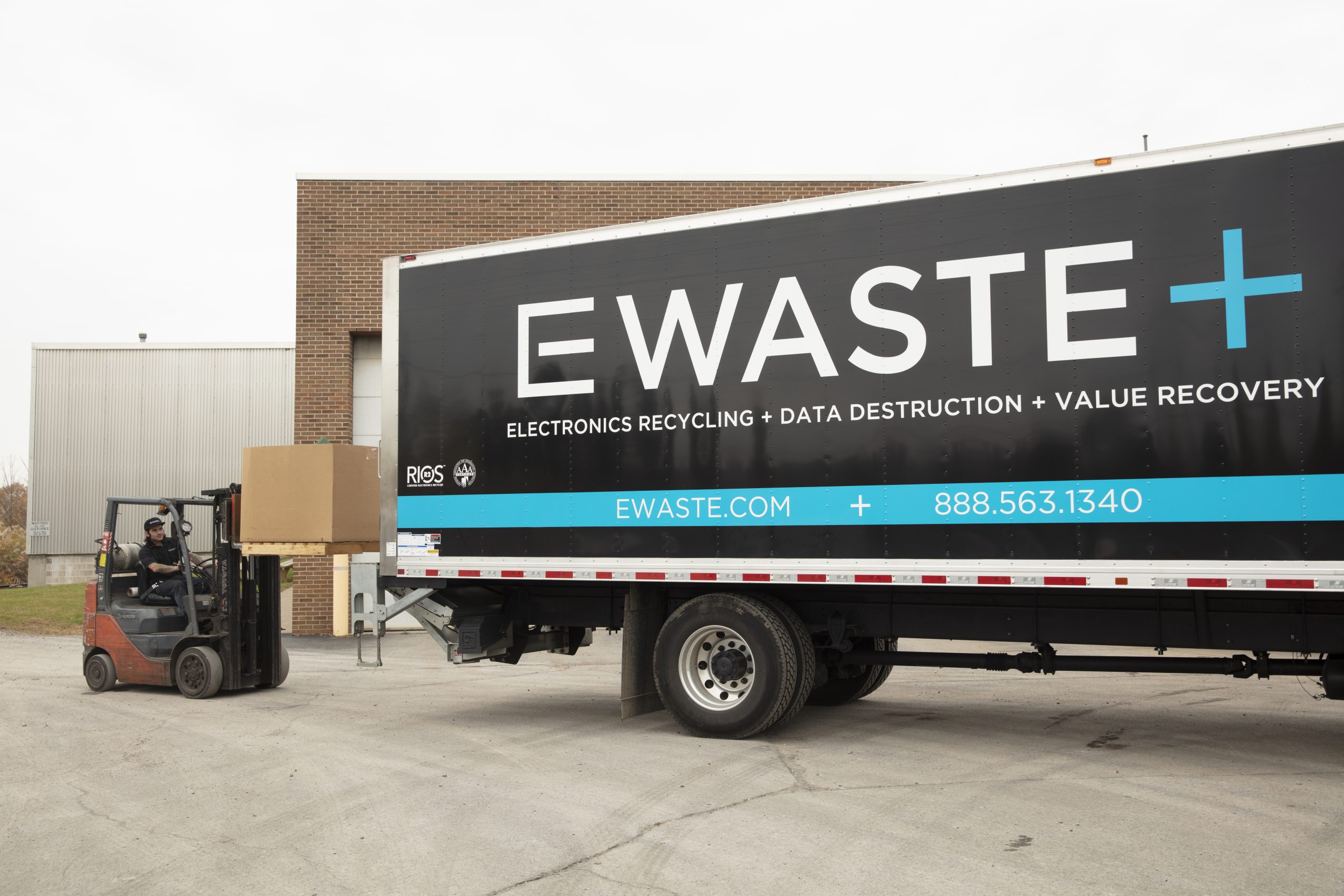 Data Center Decommissioning
Decommissioning old hardware is a frequent part of data center operation, where frequent IT upgrades leave in-house teams with the complex task of retiring old hardware while properly handling sensitive data destruction.
Alleviate pressure from your in-house data center team and let EWASTE+ handle all your retired enterprise  assets. We will inventory and decommission obsolete and redundant assets, destroying data bearing devices with accuracy and in accordance with all necessary security protocols.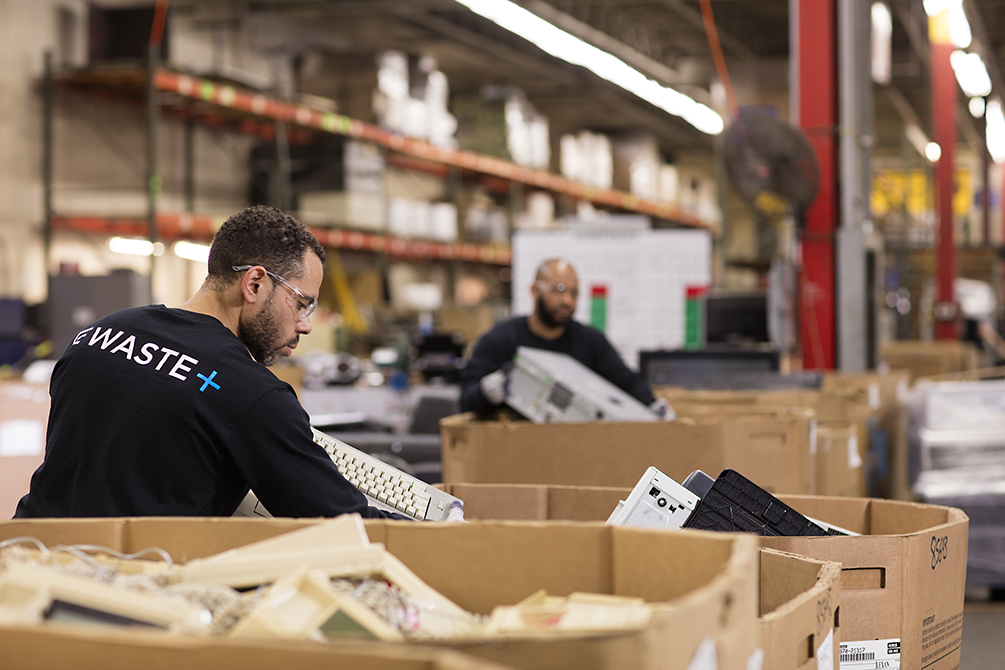 IT Asset Disposition Company

Serving the Northeastern USA
As the world transitions into a new age of information, finding an IT asset disposition provider to work within your required service area can be difficult, especially as the world moves towards a more sustainable future.With three  state-of-the-art facilities located in New York State, EWASTE+ stewards concrete environmental practices that service the Northeastern USA, ready to handle all the asset disposition needs of companies big and small.
No task is too large for our certified and experienced team. Regardless of scale and location, our mobile hard-drive shredding services provide your company with secure, on-site and off-site data destruction services suitable for the digital age.
Why Should Your Organization Have an
ITAD Strategy?
IT asset disposition addresses many concerns of the modern business world, detailing how data should be handled and what procedures should be followed when destroying old hardware or other assets.
With the ability to store so much data on a single drive, cybersecurity becomes a concern not just online or in the cloud, but also old assets if they are not properly disposed of.
Without proper disposal, sensitive data can live on old devices and be restored by anyone patient enough to repair the asset.
This means that trade secrets, sensitive corporate data, and customer information are available for anyone to find once lost or improperly disposed of.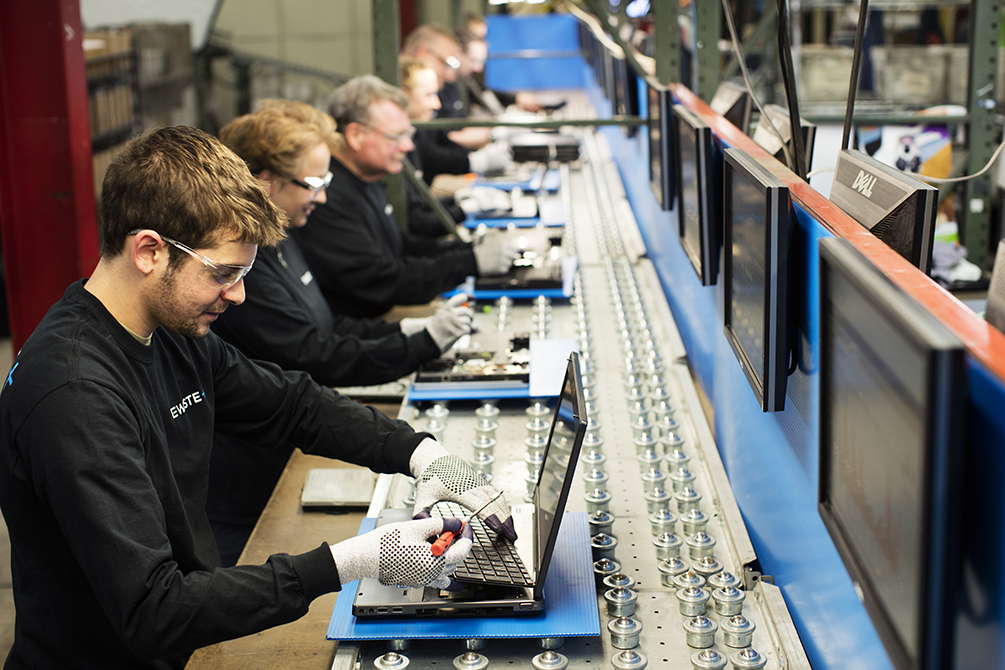 When your company is ready to dispose of old IT assets, it becomes a legal and ethical problem that cannot be ignored.
Disposing of your old assets in an environmentally-conscious and secure manner allows your business to protect itself, trade secrets, as well as employee and customer information.
This helps your company build and execute a strong foundation for its Corporate Social Responsibility strategy, giving back to the global economy and creating a more sustainable future.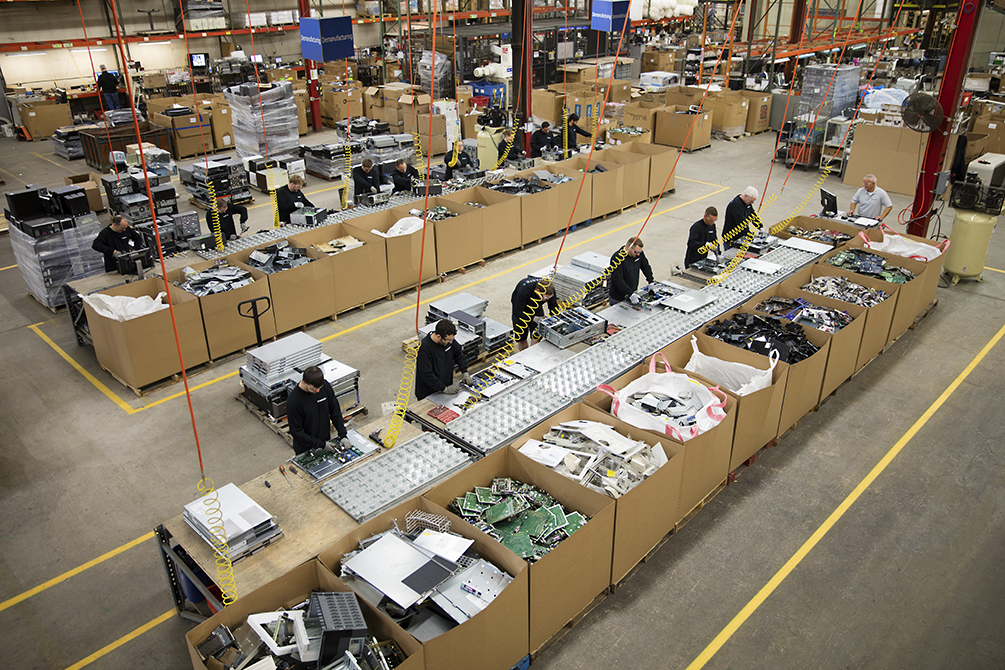 ITAD companies such as EWASTE+ fill an important gap in the service line in a computer-driven global economy, providing services that go beyond simple IT disposal services.
Not only does this data capture and destruction service close the logistical gap between your company and disposal providers, but EWASTE+ ensures your data is handled and erased diligently, future proofing it for a fast-paced world.
Your company can improve its environmental impact one destroyed asset at a time while showcasing a strong and innovative approach to societal responsibilities.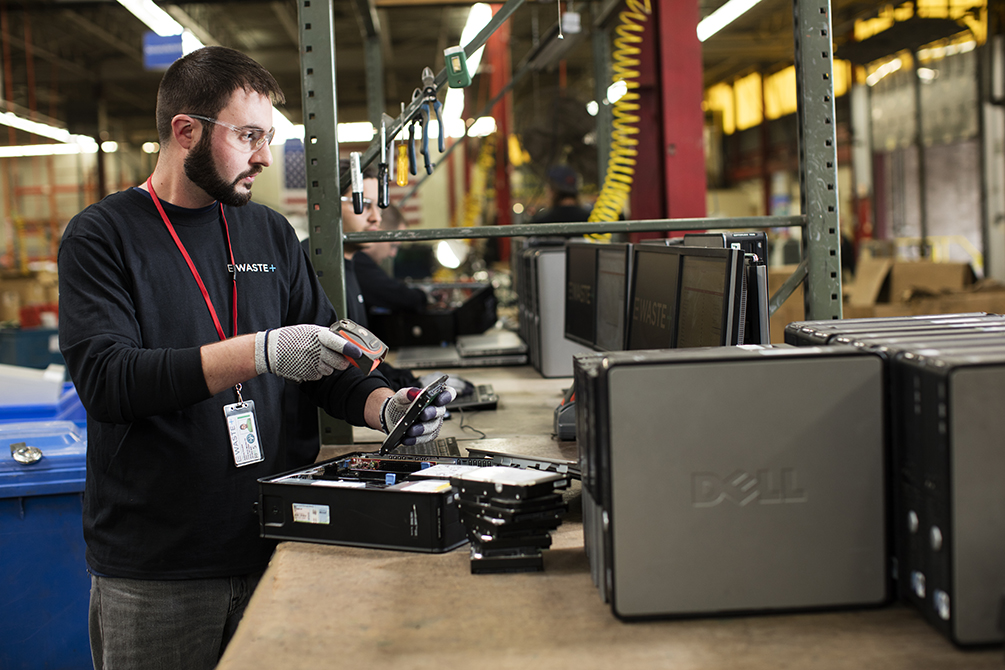 Ultimately, having a proper ITAD strategy in place protects your business from legal and ethical concerns, as well as improves its environmental impact in a world with ever-changing policies.
Safeguard Your Company With Proper Data Destruction Through ITAD
Protecting your company means more than ensuring legal and ethical obligations are filled.
Your company is expected to go above and beyond the standard to dispose of redundant assets. Old data can be a valuable resource for corporations looking for a foothold in your industry so ensuring it is properly managed is not something to be taken lightly.This type of sensitive data is like a currency in the modern world, with entire global corporations built upon simple data collection practices. Data and security breaches cause damage that places the average recovery and security costs at $4 million, or a minimum of $8 million for sensitive industries such as healthcare and financial companies.
This security risk places a greater responsibility on your company to properly dispose of old data. Organizations that are unaware of these gaps or that resort to unethical disposal practices can leave your company with bad publicity and other negative implications.
Fortunately, EWASTE+ provides an ethical and sustainable alternative for data destruction services that protect your company from malicious data theft or information security breaches. Flexible programs allow clients to rely on transparent and reliable methodology for local, state-of-the-art data destruction services on-site or off-site at a frequency that makes sense for their company policy.
ITAD is a term used to talk about Information Technology Asset Disposition, which is a growing industry that provides disposal solutions for companies with a surplus of data bearing assets.
EWASTE+ is an ITAD company that provides secure data destruction services, as well as ancillary services to support these data capture and secure erasure programs. Backed with leading industry certifications for on-site and off-site hard drive shredding and destruction, we are the Northeast's top choice in ITAD.
Additional services include secure logistics, chain of custody documentation, issuance of data destruction certificates, and universal waste recycling to help companies maintain compliance with state disposal laws, as well as the ethics of environmental management. Learn more.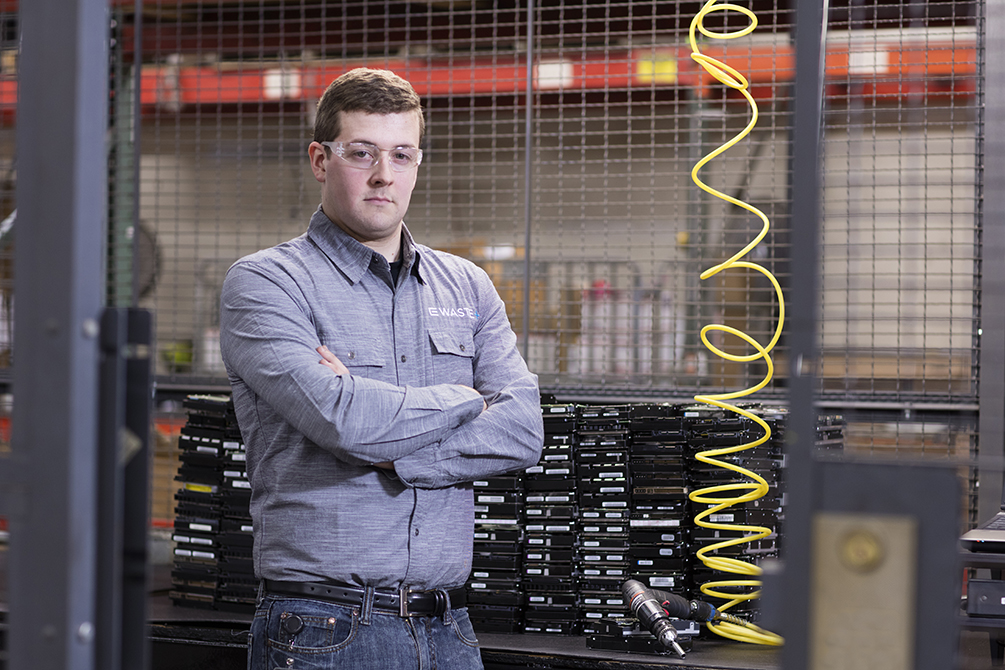 EWASTE+ provides a much more comprehensive, transparent, and flexible range of services than a scrap yard or waste recycling company can, providing clients with end-to-end logistics services and inventory tracking solutions.
Data Centers
Servers, Routers, Switches, Hard Drives
Office Equipment
Printers, Postage Meters, Phone Systems
Specialty Devices
Gaming Machines, Medical Equipment, Governmental Equipment, Solar Panels
Consumer Electronics
Handheld Games, Smart Watches, Cell Phones, Battery-operated Toys
POS Devices
Scanners, Self-Checkout Machines, ATMs, Registers, Tablets
Industrial Electronics
Instrumentation Devices, Lab Equipment, Metering Devices, Control Meters
Video Display Devices
Televisions, Monitors, Display Systems
Productivity Devices
Computers, Hard Drives, Tablets, Laptops, Cell Phones
General Electrical & Electronics Scrap
Any Device with a Cord or Battery
Optimize Your Asset Removal
EWASTE+ helps your company decommission and remove retired or redundant IT assets efficiently and securely. With end-to-end tracking and an online portal for live tracking, your security team can verify our data destruction protocols virtually, freeing up administrative resources and time.
Optimized and environmentally friendly technology allows us to dispose of assets securely with a lowered carbon footprint than standard recycling facilities or other providers. Your company can maximize your return on investment, free up internal resources, and improve Environmental, Social, and Governance requirements  while maintaining your corporate societal responsibilities with a single service.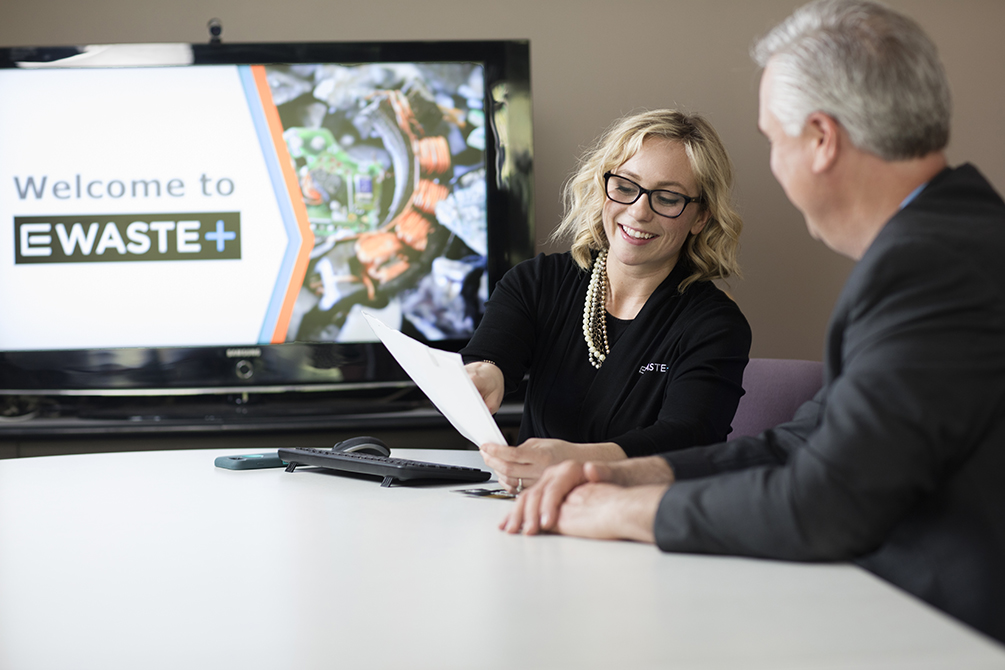 Get in Touch with EWASTE+ Today
EWASTE+ is your trusted data destruction partner, offering a full suite of data destruction services that are designed to protect your organization from associated risks such as data breaches or theft.
We help you properly dispose of your data in an ethical and logical manner.
Our local data destruction centers are based in New York State, and our mobile destruction teams can service all of the Northeastern US. We are the ideal choice for environmentally-conscious data capture and destruction services, providing a reliable and transparent service for a forward-thinking industry.
Choose from a range of services based on your company's needs and data protocols, including data destruction, hard drive destruction, data erasure, end-to-end inventory tracking, and data destruction certificate issuance.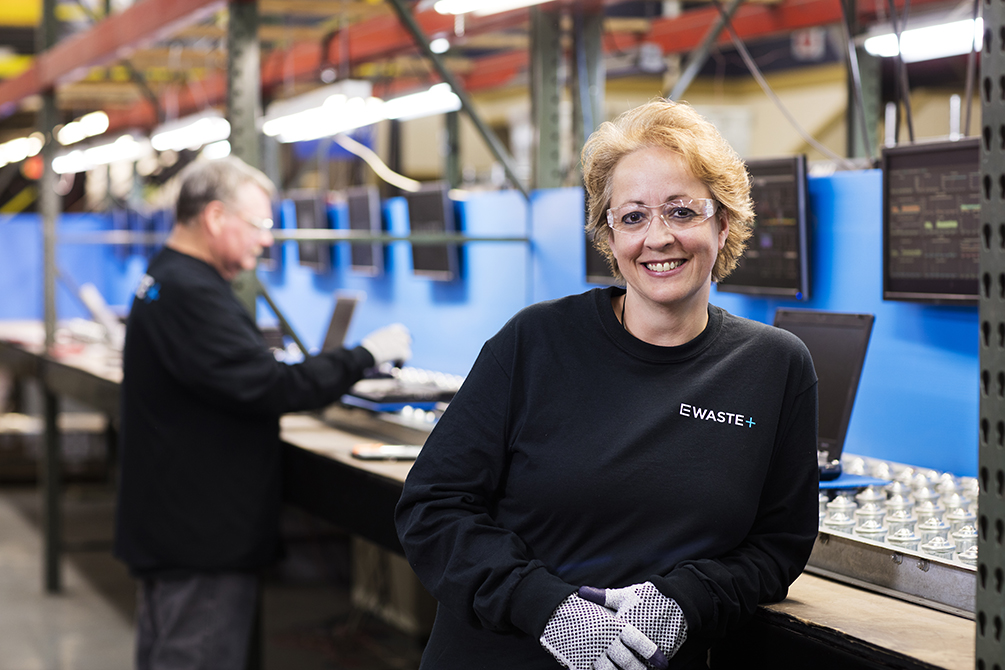 Get in touch with our team today to learn more about our flexible programs and discuss what type of ITAD program makes sense for your company. We are here to help future-proof your company's data security today.