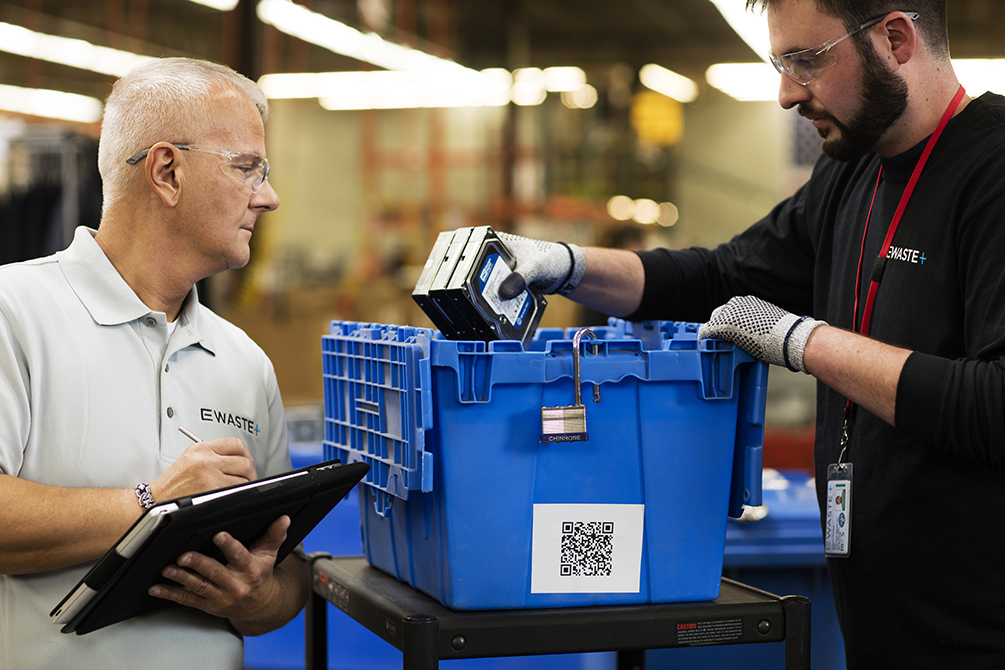 EWASTE+

Your Top Choice for

Hard Drive Destruction Services

.
EWASTE+ provides clients with a full suite of hard drive destruction services and data sanitization solutions. Certified disposal methods and the thorough destruction of data ensures your business is compliant with comprehensive security protocols & standards.
Between our secure facilities and remote onsite services at your location, EWASTE+ is the top choice for
NAID Certified Hard Drive Destruction
Data is incredibly persistent. In today's age, it's a problem that has become more prevalent than ever. Even seemingly defunct and obsolete hard drives still store sensitive data that can be extracted with the right tools, posing a serious security risk for information stored on these machines.
In an increasingly digital world where personal data collection is commonplace, these stores of information are a risk to maintaining your security compliance.
Fortunately, EWASTE+ offers tools and methods to keep your business's security intact, ensuring the data from your retired IT assets never falls into the wrong hands. Our data sanitization and hard drive destruction services make it easy to secure personal or sensitive information, giving you and your stakeholders peace of mind.
Logistics Your Way
Our team works with you to develop a plan tailored to your company's needs. Whether you need one unit destroyed, or a tractor-trailer load of hard drives, we have your back.
Esteemed Industry Certifications
EWASTE+ is a New York State licensed data destruction specialist, certified in R2/RIOS™ and NAID for a comprehensive hard drive destruction service you can trust.
Flexible Destruction Programs
We are flexible so you don't have to be. Tailor your hard drive destruction services to your company's needs and requirements. Your account manager can help you determine the right solution for you.
Max Out Your ROI
Not only do we effectively decommission and recycle your hard drives, but our expertise in remarketing also maximizes the ROI from your outdated or redundant IT assets.
Reach out to one of our dedicated account managers today so we can develop a custom solution that addresses your unique needs and product mix.
The Right Tools for the Job
At EWASTE+, we have the right tools for the job so you can come to one company for all of your data security needs. When it comes to destroying information in the digital world, it's important to get the job done right the first time to minimize the risk of data breaches.
We believe that every company deserves access to comprehensive data destruction services to ensure their confidentiality. With certified disposal methods and robust security training, our team makes it easy to handle electronic waste the right way. We have the right tools for the job, and the experience to back it up.
Your business should be able to choose the method that best suits your needs and follow internal security protocols. That's why we offer two different methods of hard drive destruction services, including:
Physical Destruction
Data Sanitization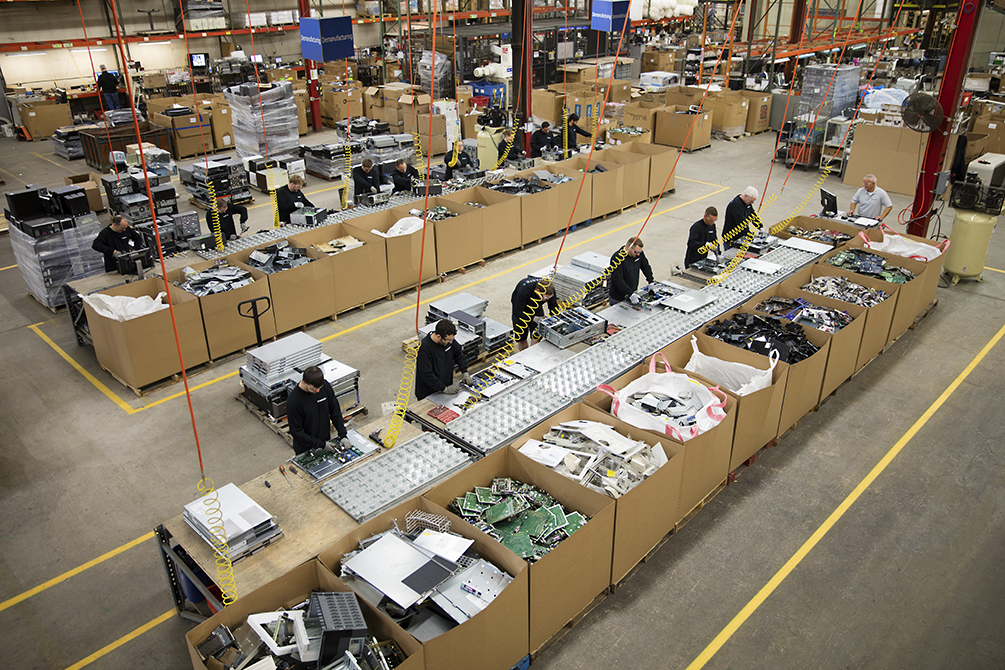 EWASTE+ At Your Doorstep
With facilities across New York state and mobile hard drive destruction units ready to be deployed, it has never been easier to get data destruction services right at your doorstep. Whether your company needs data destruction services on-site, or prefers the data destroyed at our secure off-site facility, we can accommodate.
EWASTE+ never keeps you wondering about the fate of your data; you'll always know what is happening with clear reporting and results. For maximum transparency, our mobile service has a wide range of security features, including:
Securely Locked Trucks
Permanent GPS Trackers
NAID Certified On-Site employees
Video Recording of the Destruction Process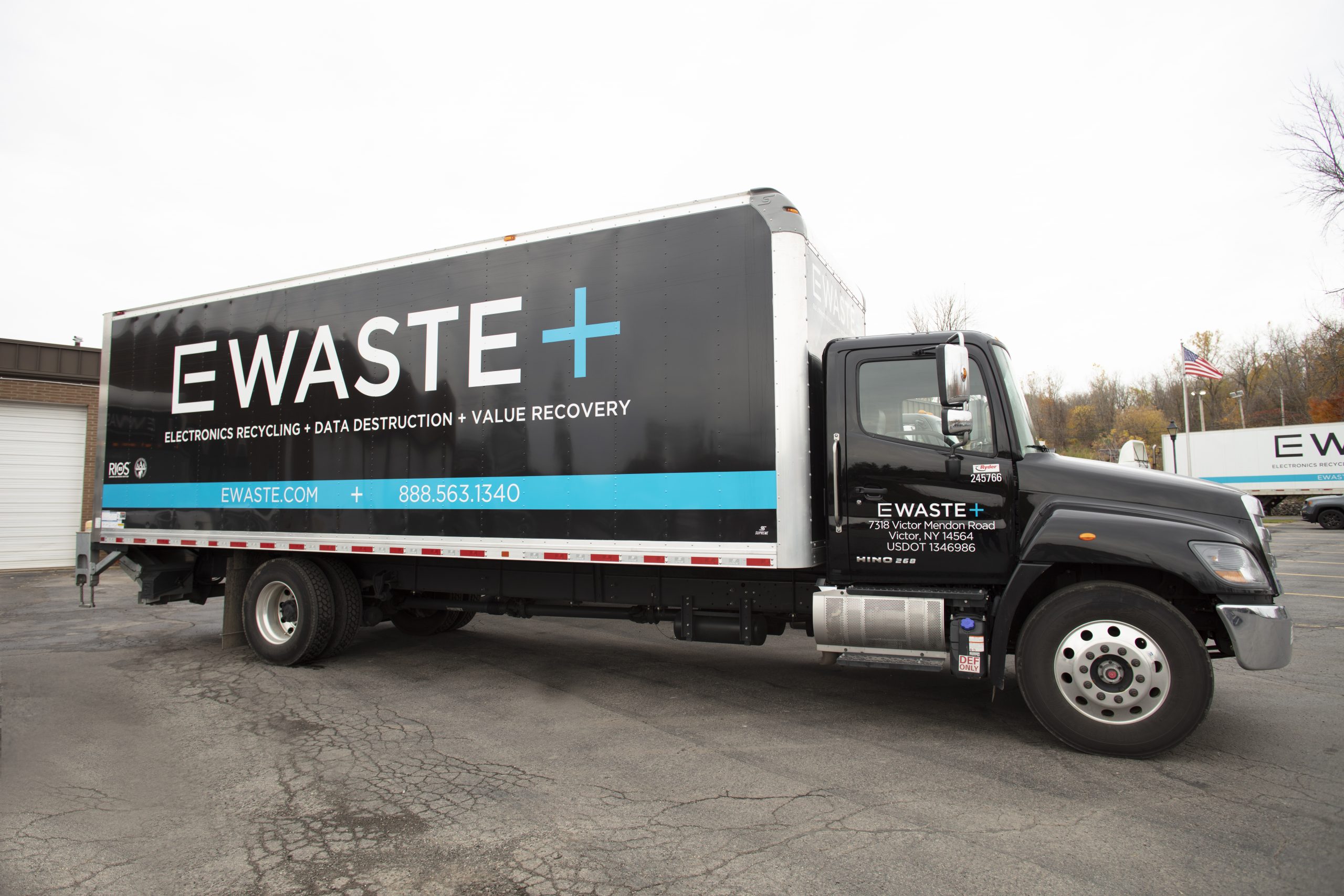 Licensed and Certified for Your Requirements
At EWASTE+, we don't leave anything to chance. We have a full portfolio of certifications and licensure to meet any regulatory requirements necessary in your industry. If you aren't certain what your industry requires, give us a call and we'll help you find the right service for your needs.
Our professionals are fully background-checked and experienced in data destruction services. We can accommodate witnessed destruction as well, so you can ensure your data is completely destroyed before transitioning to the next step.
The certifications and licensures backing our services include:
Responsible Recycling R2v3
Recycling Industry Operating Standard (RIOS)
National Association for Information Destruction (NAID)
NYS Document Destruction Licensed
EPA Registered
Recycling Old Hardware Made Easy
As a business in a digital world, your company carries certain state and federal compliance obligations to the data stored on these machines. This is particularly true if your business has a corporate social responsibility strategy in place, as these often require certain data handling methods.
The reason why data disposal or recycling is such a critical part of these social responsibility strategies is that electronic waste has a significant impact on the environment. With the high turnover rate of IT assets, it's no surprise that this waste builds up quickly. New systems are put into place as new technology is created, and the old waste is collected and disposed of.
When electronic waste is recycled properly, it reduces the negative impact of this old equipment on the environment, keeping our planet safer and greener for a brighter future. A healthier planet means a healthier economy and healthier community.
EWASTE+ is proud to be compliant with all state and federal regulations, operating with a zero-waste policy to ensure your old hardware is disposed of ethically with minimal impact. We make it easy for your business to uphold the data destruction services required by your corporate social responsibility strategy.
Confidential Destruction for
Total Security
Our team works diligently with each job, whether it's data center decommissioning or a small batch hard drive destruction lot, we provide top transparency throughout the process. From start to finish, either in-person or at your location, or through video recording at one of our facilities, we provide you with complete transparency.
All on-site work trucks are fitted with a permanent GPS device, and you can witness exactly how your data is handled onsite or at our facilities for a full audit trail, remaining compliant with top security standards. Need data destroyed based on New York State or Federal regulations? Our technicians can assist, inventorying each asset before destruction to ensure every piece of equipment is accounted for.
Witnessed In-Person Supervision of Destruction
Full Audit Trail and chain of custody
Top Security Protocols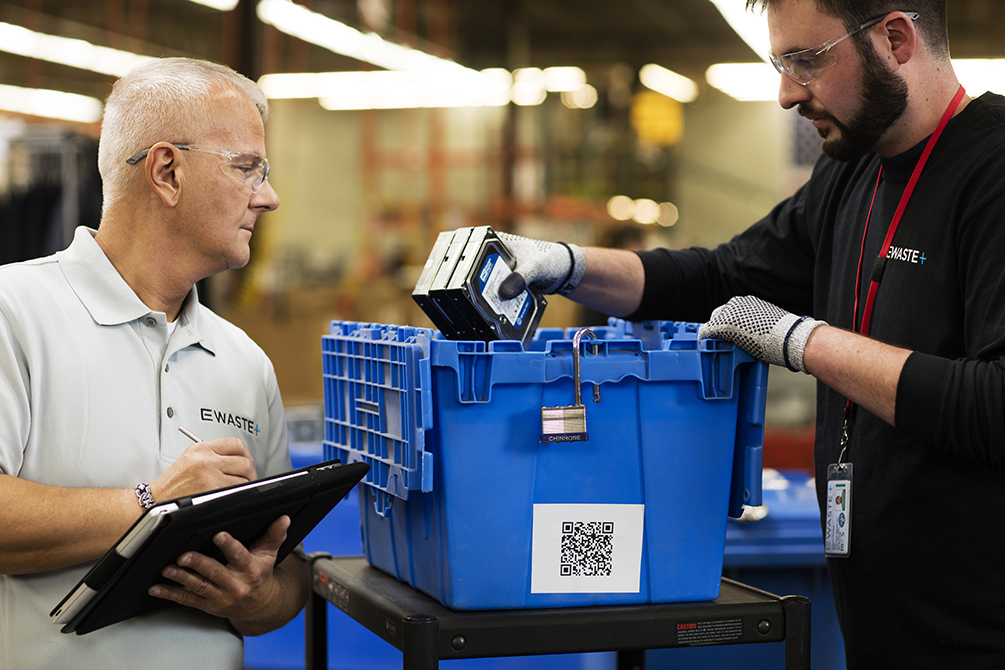 When it comes to how your data is handled, EWASTE+ believes that some things shouldn't be left to trust. The need for full transparency in data destruction services shows your company cares about what happens to sensitive data that may be stored on these devices, and we take that seriously.
Extracting Value from Your IT Assets
EWASTE+ does more than hard drive destruction services. With several facilities based in New York State, we also provide a full suite of IT asset disposition services across the Northeastern United States. With an exceptional level of flexibility, we customize the frequency of your data pickup based on your company's requirements, whether you need a one-time service or recurring services.
Tackling your company's data destruction doesn't have to be complicated. EWASTE+ makes the process simple and sustainable with a zero-waste policy for a better future. We can take care of your hard drive decommissioning, remarketing old equipment and extending the value of assets that your company has retired with flexible programs that meet your needs.
No task is too large for our certified and experienced data destruction team. We can take on any project regardless of scale and location, helping your business move into a more sustainable future where data remains confidential and secure.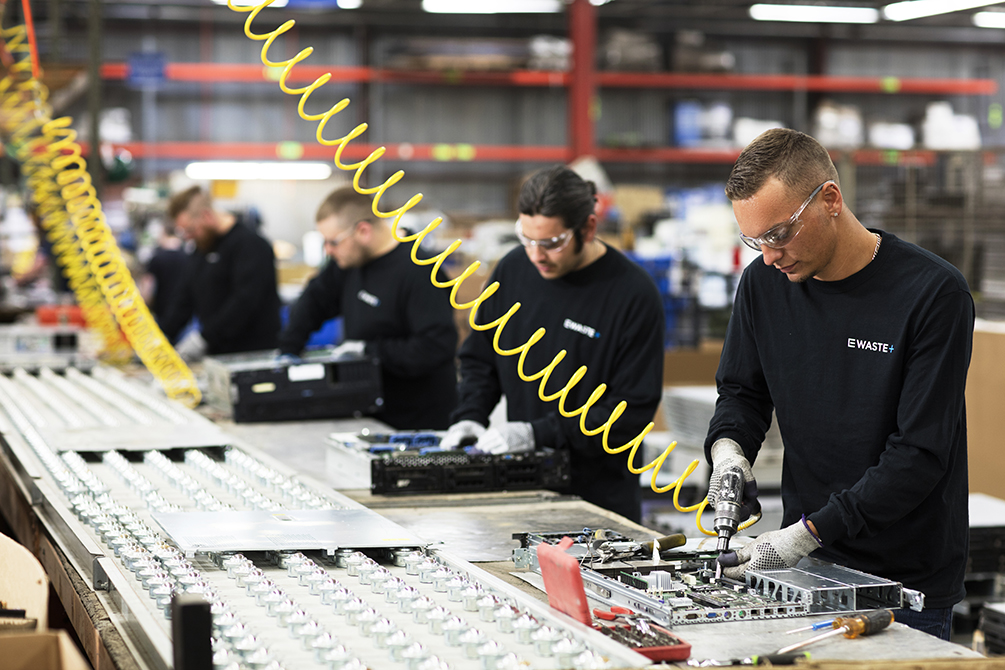 Enhanced Services for Storage Mediums
In addition to the hard drive destruction service, EWASTE+ provides a range of enhanced services for other types of storage mediums that could contain sensitive information. These range from older mediums such as tapes and DVDs, to newer media like cell phones and x-rays.
In some cases, these other storage mediums may require special handling or destruction protocols. Our team is certified and experienced in handling a wide range of media, ensuring the complete destruction and sanitization of data on these devices. The types of storage media we can provide NAID-certified destruction services with includes, but is not limited to the following:
Drives
Hard Drives, Flash Drives
Computers
Desktop Computers, Laptops, Thin Clients
Specialty Devices
X-Rays, Medical Devices
Mobile Devices
Cell Phones, Tablets, Other Mobile Devices
Servers
Servers & Network Devices
Printers
Printers, Copiers
Electrical Components
SD, SIM Cards, Circuit Boards, Proprietary Components
Protect Your Business While Protecting the Future
Only a NAID-certified hard drive destruction service like EWASTE+ can prevent the possibility of data breaches in decommissioned assets. These mistakes happen if these defunct assets fall into the wrong hands, which means not only does the data need to be destroyed, but it should be impossible to repair or retrieve.
Security Against Costly Data Breaches
Corporate data breaches are not only costly to those it affects, but also to the companies whose data is beached. Whether your company stores customer records or proprietary information, it's more critical than ever to keep this information secure. The cost of these beaches has continued to rise as technology advances and more data is stored remotely on hard drives and cloud services.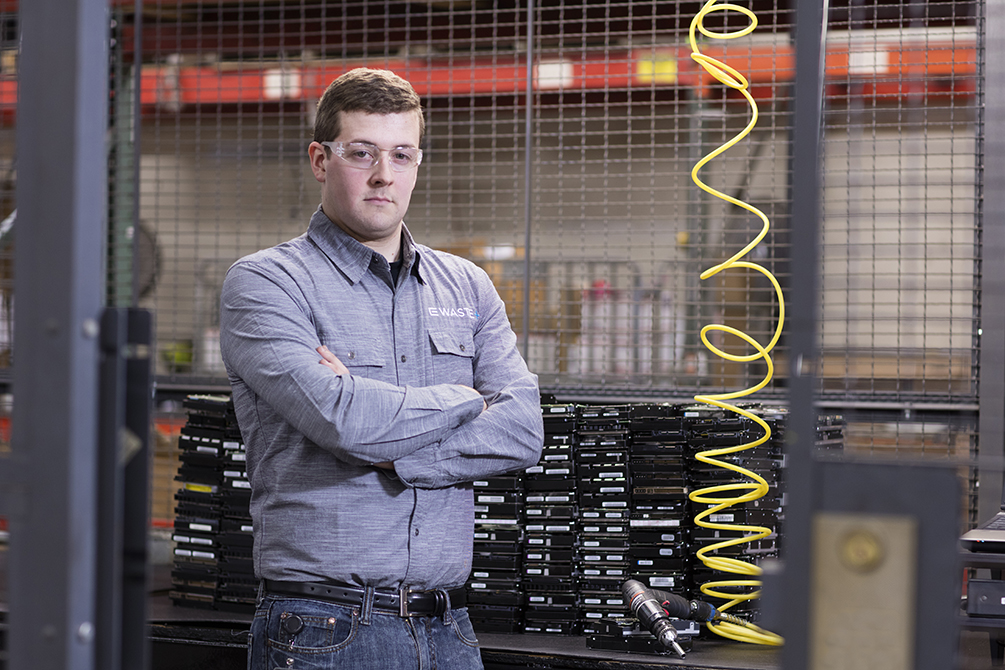 Protect the Environment and Future
Not only do decommissioned IT assets take up a lot of space in landfills, but these machines leak toxic substances into the environment, such as lead, zinc, barium, and others. These materials aren't only incredibly toxic to the human body, but also toxic to the environment.
At EWASTE+, we maintain zero-waste policies that keep your assets out of the landfill or other disposal sites. This not only keeps your business from contributing to this critical problem for the health of our future but also allows you to maintain compliance with your corporate social responsibility strategy's data disposal policy.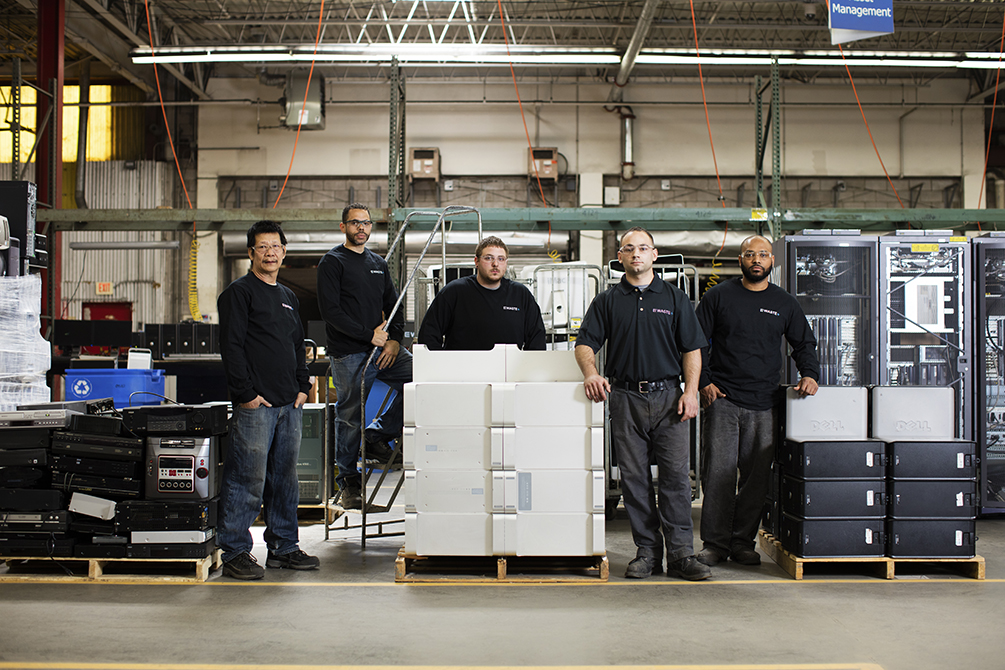 Add Value to Defunct Assets
At EWASTE+, we understand that not all data is created equally which is why we assess each new job before beginning destruction services. While some jobs warrant in-person supervision with complete shredding, not every company needs these costly services.
When complete hard drive destruction service is not necessary, it's possible to recycle these materials into something that can be re-used, allowing us to all work towards a healthier, cyclical economy.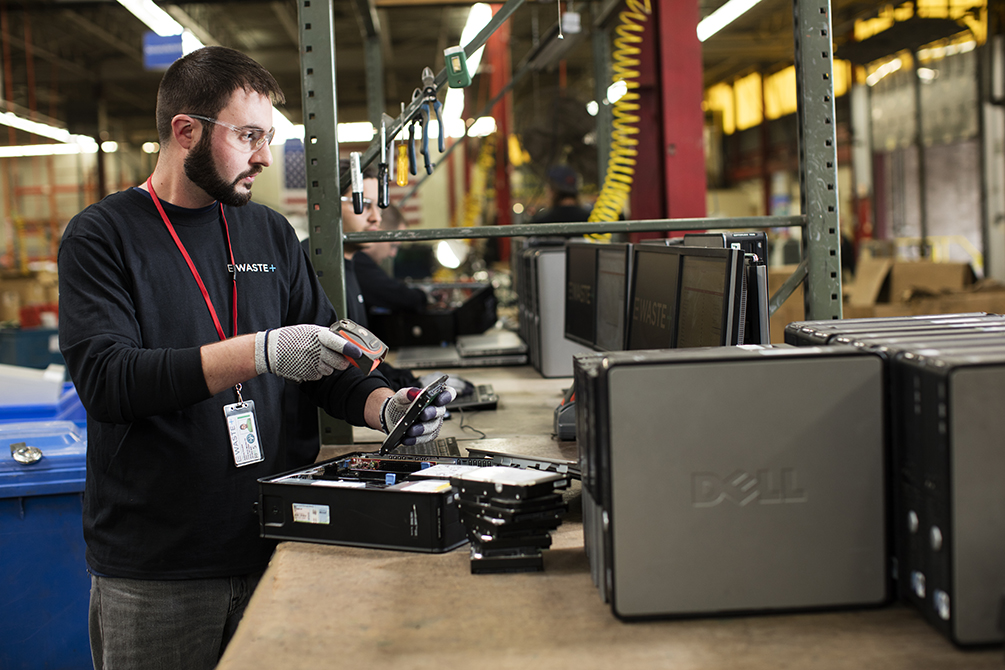 Maintain Customer Loyalty
Your business needs to retain the trust and loyalty of your customers, shareholders, and stakeholders. The number one reason why companies lose customer loyalty today is data breach concerns or incidents. If storing customer data is a vital part of your business' operations, it's critical to maintain customer loyalty and trust.
Beyond the immediate financial concerns of patching the breach, recovering information, and notifying those who may have been affected, there is the long-term cost of loss of trust in your company's security. By maintaining NAID-certified data destruction services to completely remove sensitive data from these machines, you can ensure this lack of trust is never an issue for your company.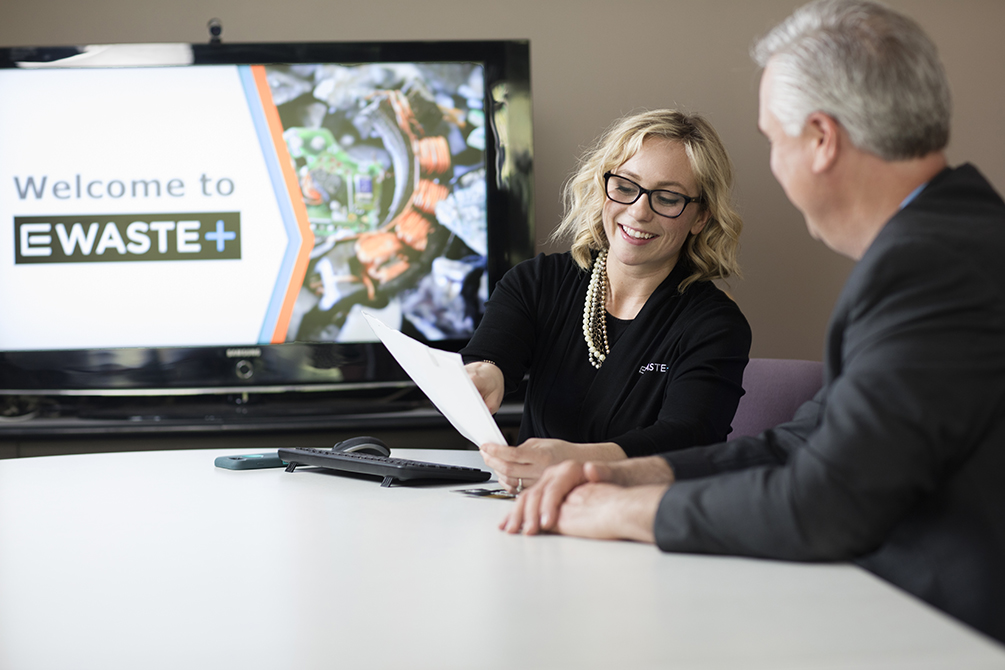 Full Data Destruction Assurance
EWASTE+ offers complete data destruction assurance with a full-transparency methodology. With robust tracking and reporting on data destruction services, we'll provide certificates of data destruction and a full inventory of items destroyed during the process. Never second-guess where your data is again.
Complete Data Destruction
It's easy to think that consumer-grade erasure software can keep your data secure. For most non-commercial uses for hard drives that don't contain any kind of sensitive information, this may be a satisfactory tool to use before recycling a single personal computer, but it's certainly not sufficient to protect your enterprise.
Unfortunately, consumer tools cannot guarantee 100% data erasure. Furthermore, research has shown that up to a fifth of all global enterprises do not know how to dispose of hard drives. These companies do not differentiate the disposal needs between hard drives and solid-state drives. Complete, 100% erasure for the specific hard drive type is vital to ensuring complete data destruction.
At EWASTE+, we carefully dispose of your old IT assets according to their individual needs, inventorying every item before sanitization to ensure everything is accounted for and destroyed according to NAID certification standards.
NAID-Certified Hard Drive Shredding
At EWASTE+, our NAID-certified hard drive destruction specialists are equipped to sanitize or destroy any IT storage mediums. As one of the least costly methods of hard drive destruction, sanitization has become a popular method of disposal.
NAID certification is important to maintaining data confidentiality, requiring that our uniformed drivers maintain locked and secure trucks. Criminal background checks and drug testing is performed on all personnel in contact with the recyclable material, and 90-days of backlog video surveillance is in operation at all times to ensure your data is handled responsibly.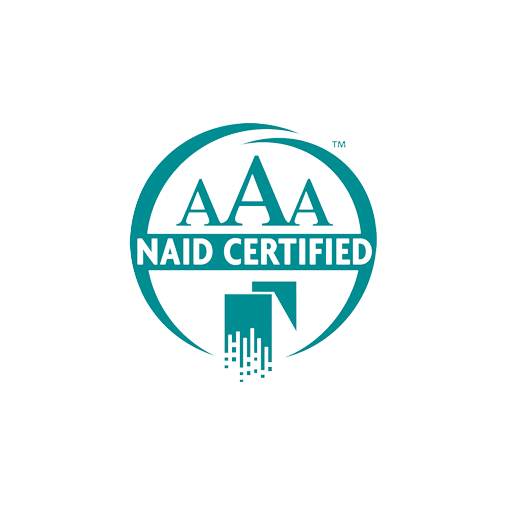 Complying With Waste Legislations
Law firms, medical facilities, financial organizations, educational institutions, and many other businesses all must acquire a certificate of destruction for full compliance of privacy laws, such as HIPPA, HITECH, FACTA, GLBA, and New York State's SHIELD Act.
At EWASTE+, we keep your business compliant so you can focus on what you do best. As a part of our environmental stewardship, we only send recycled commodities to certified recycling partners that comply with federal and state regulations.
Customizable Services
Outfitted with our fleet of mobile destruction vehicles, we offer on-site data destruction services and asset management programs that can be customized to your requirements, handling any size job with as much security as your company requires. It's easy to schedule a pickup and keep your data safe throughout our entire process.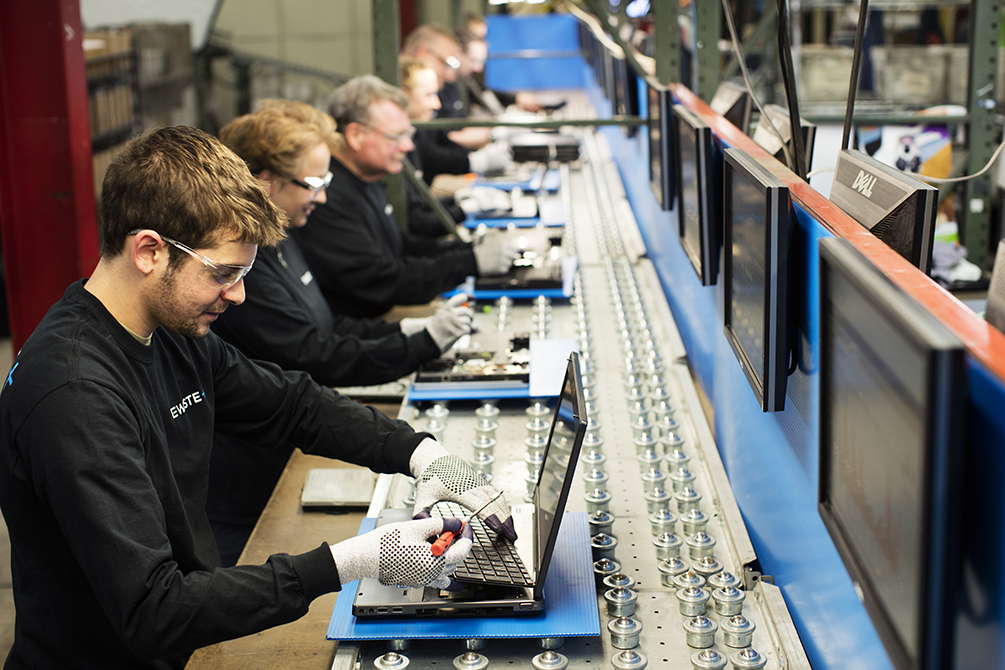 EWASTE+ Is Your Partner in Hard Drive Destruction Services
For more information about our hard drive destruction service or electronic waste disposal process, give us a call today. We are happy to help you create a plan that is customized to your business' needs, whether you need one-time or recurring services.
As the leading provider of hard drive destruction services, EWASTE+ is proud to maintain several facilities within New York State and hold a full portfolio of certifications and licensures to service the Northeastern United States. We offer a full suite of services designed to protect your organization from the risk of data breaches and help you maintain corporate social responsibility strategies.