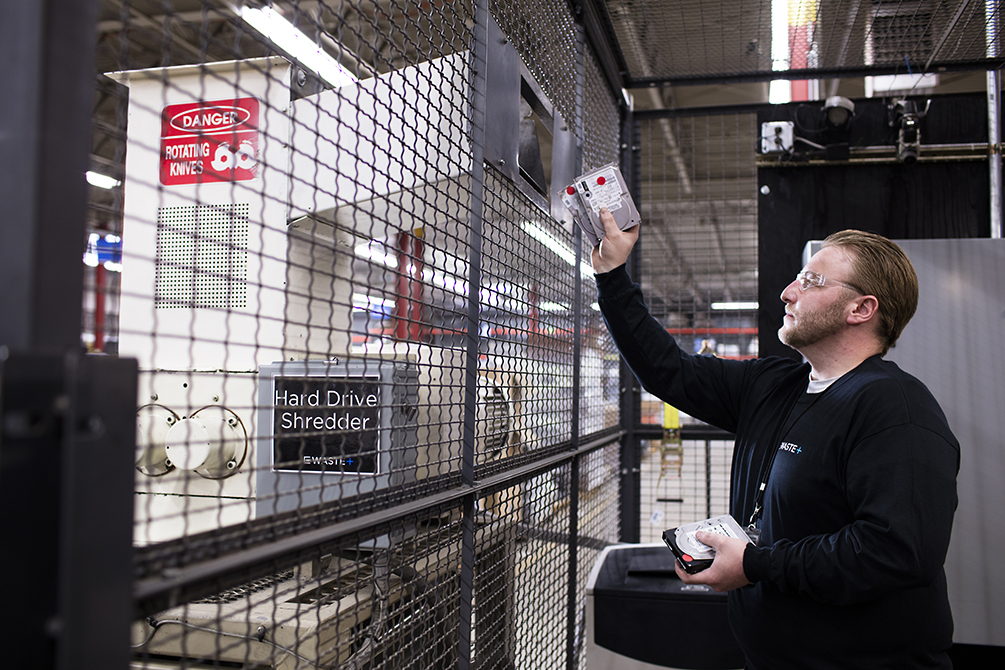 EWASTE+

Your Trusted Partner for

Secure Data Destruction

and Electronics Recycling Services
If you're looking for a certified data destruction partner that you can trust, EWASTE+ is the organization you can count on to protect and destroy your confidential information.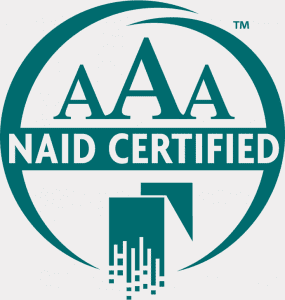 NAID Certified
We are NAID certified, meaning when you partner with us, your data is managed under the only independent and accredited certification standard for companies that provide data and media destruction services to their customers.
Rigorous & Secure
Our rigorous data destruction process includes secure collection and handling, documented chain-of-custody, asset inventory and serial number tracking, and ensures that your confidential information is never exposed.
On Site and Offsite Data Destruction
We offer plant-based and mobile operations that are audited and certified for data sanitization and physical destruction services.
Our Full Suite of
Data Destruction Services
Onsite & Plant-based Hard Drive Shredding
We offer onsite and plant-based hard drive shredding services to fit your needs.
The onsite service is often used for clients who need to have their data destroyed at their facility, so they can witness the process. Our technicians will inventory and place your hard drives or media into our purpose-built mobile shredder that will shred the drives, making data retrieval impossible.
The plant-based service is most common and occurs when our logoed trucks and uniformed drivers pick up data bearing items and deliver the equipment back to our secured facility where certified technicians complete the data destruction process.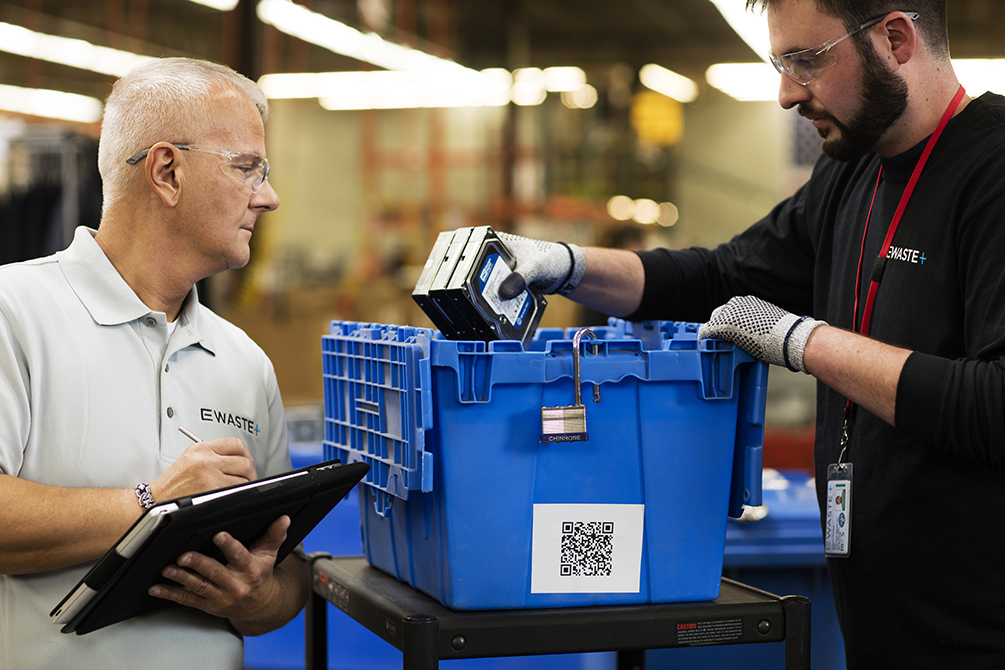 Onsite Data Destruction
Certain clients require validation that confidential data residing on their end-of-life electronics has been completely erased or physically destroyed prior to leaving their facilities.
In these cases, certified, EWASTE+ technicians are available to provide data destruction services at your office location. The convenience of our onsite data destruction and our mobile hard drive destruction services is unparalleled. Your data is your most valuable asset, and you can't afford to take risks with its security. That's why EWASTE+ offers onsite data destruction services for clients who require the highest level of data security.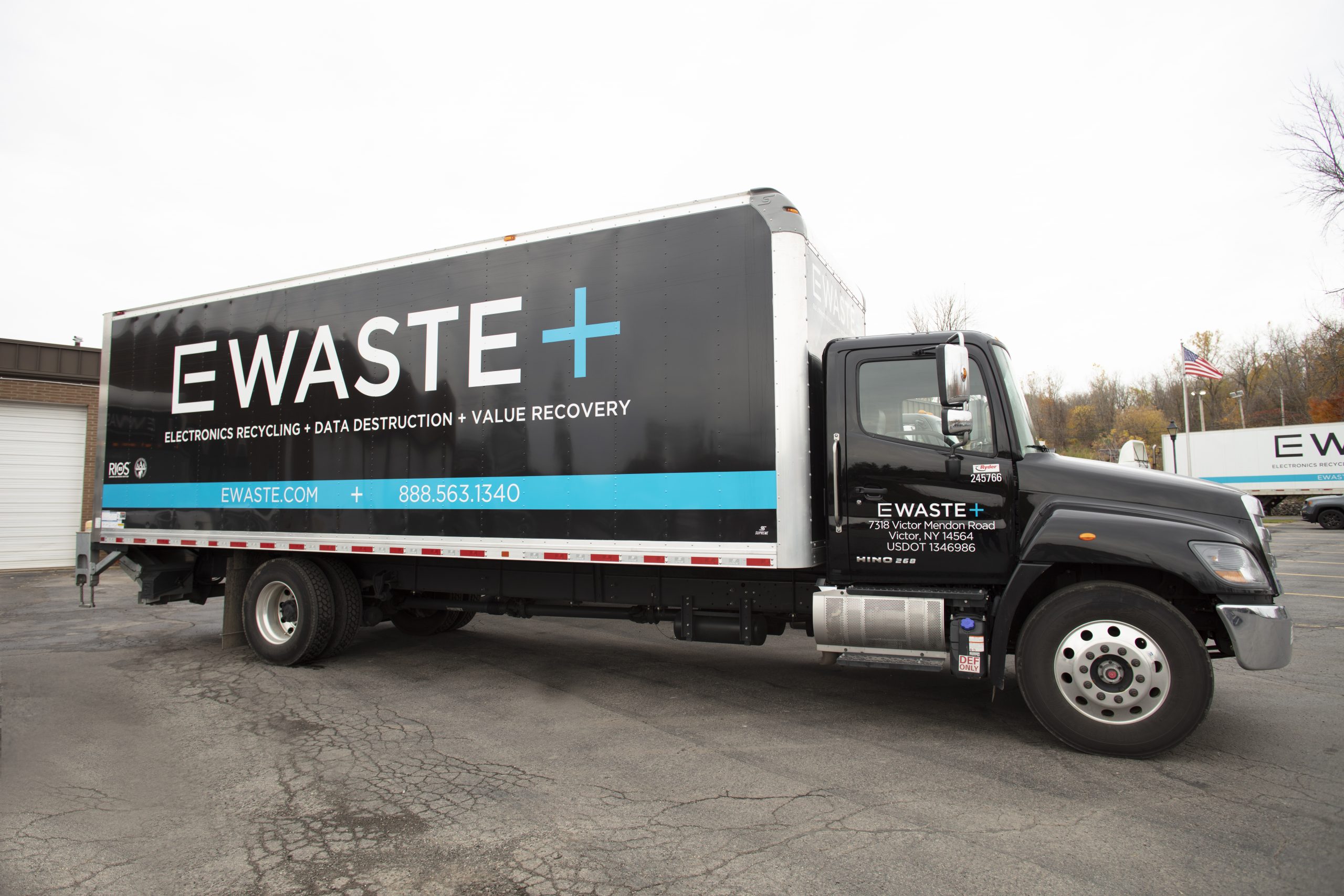 Plant-Based Data Destruction
EWASTE+ also offers plant-based data destruction services for clients who prefer to have their hard drives destroyed at our certified facility.
Our state-of-the-art facilities are equipped with the latest shredding and data destruction technology.
We also have a dedicated team of certified technicians who are trained to destroy data in accordance with the highest security standards.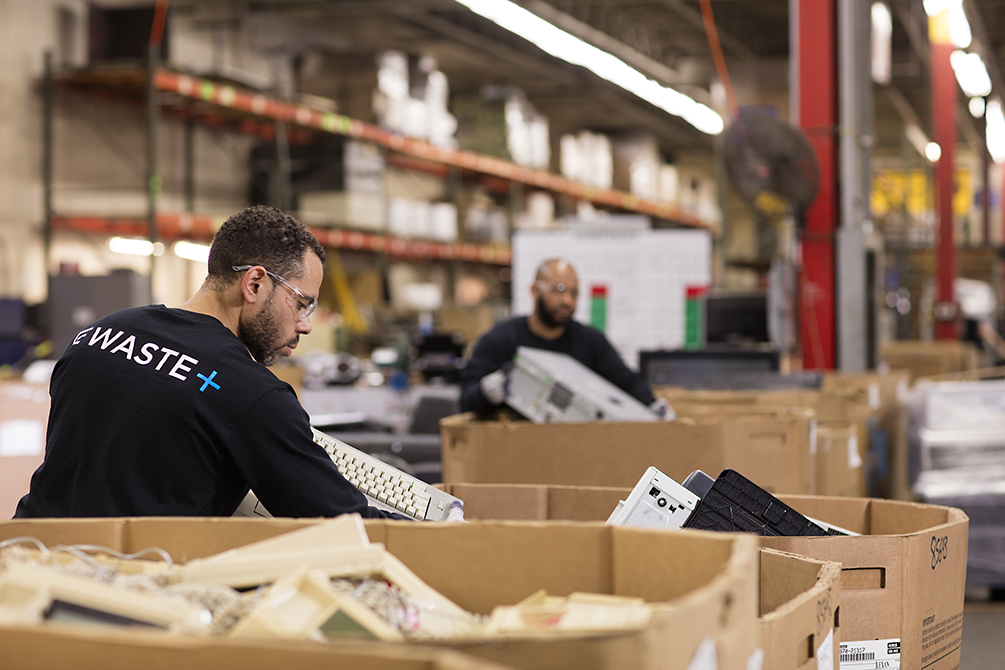 Downstream Data Coverage
Downstream Data Coverage is professional liability insurance, available exclusively to NAID Certified organizations and developed to address many of the shortcomings of standard professional liability coverage that leave service providers and their customers at risk.
Commercial and Residential Electronics Recycling
EWASTE+ offers a full suite of commercial, residential, and industrial recycling services to complement your data destruction needs. These services include asset tracking, universal waste processing, equipment destruction, and value recovery. We will work with you to develop a customized recycling plan that meets your specific needs. We will pick up your items at your convenience and recycle them in an environmentally responsible manner.
EWASTE+ is R2/RIOS and NAID certified which means we hold the highest level of professional certifications in the industry. We use state-of-the-art equipment and facilities, and our team is trained to handle electronic waste to our rigorous quality, environmental, health & safety management system standards.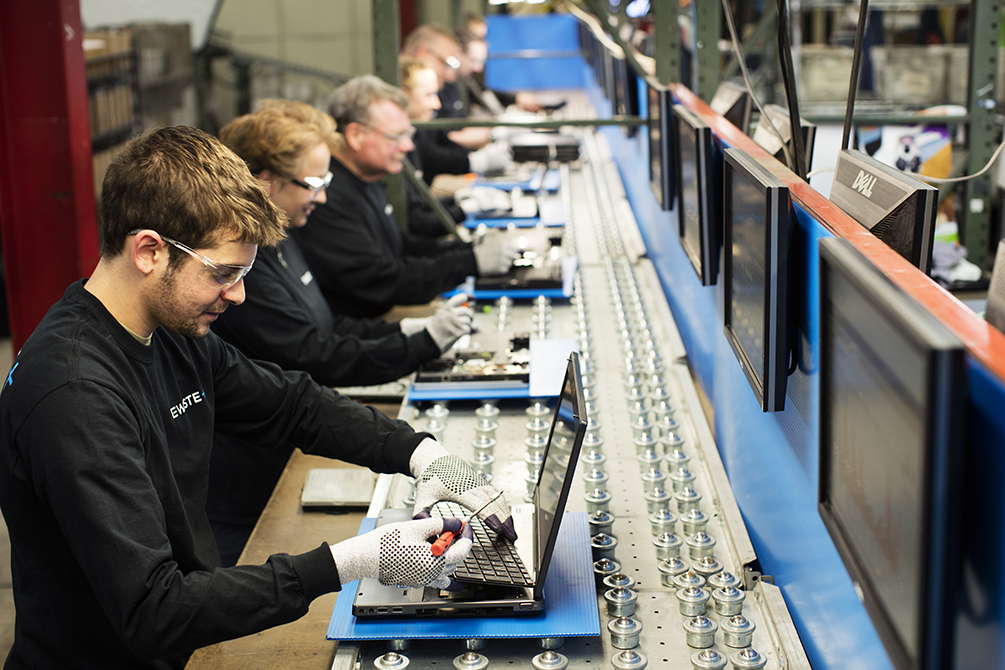 Secure Facility
EWASTE+ operates a secure facility which is a critical aspect of any data destruction program. Our buildings are fully alarmed with access controls and monitored security cameras, with footage retained for at least 90 days. In addition, all employees who handle NAID equipment undergo drug screening and criminal background checks, ensuring that our clients can trust us with their sensitive information.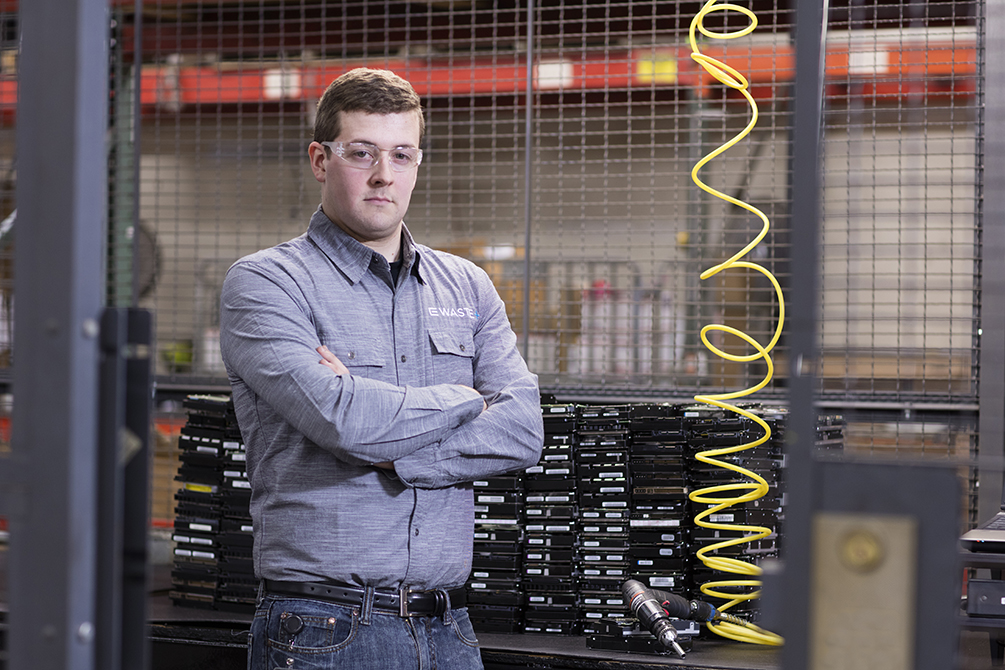 What People Are Saying About EWASTE+

EWASTE+ has been an integral component of the Mount Sinai's Environmental Health and Safety team commitment to reducing the environmental impact of our medical research, education and patient care.
EH&S TEAM | Mount Sinai Health System
Asset Management
A robust Asset Management program is made up of several important aspects, including data security, asset tracking, and value recovery.
We will work with you to develop a customized asset management plan that meets your specific needs, including equipment counts, verification services, serialization, and inventory reporting . We can customize our process to make sure your unique program requirements are met, while keeping you compliant with all local and federal regulations.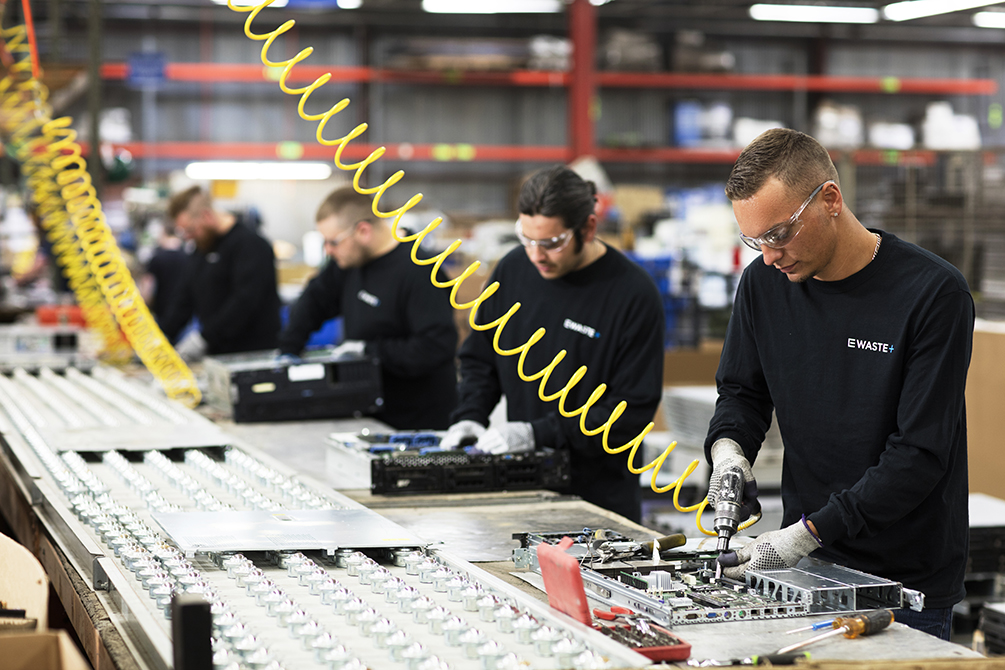 Value Recovery/ITAD:
We are the largest certified IT asset manager and data destruction specialist in the region, providing businesses, financial service companies, government entities, healthcare organizations, and educational institutions with a full range of IT asset disposition (ITAD) solutions. These solutions provide you with peace of mind, knowing your data has been destroyed and your electronics have been recycled to the highest level of environmental compliance.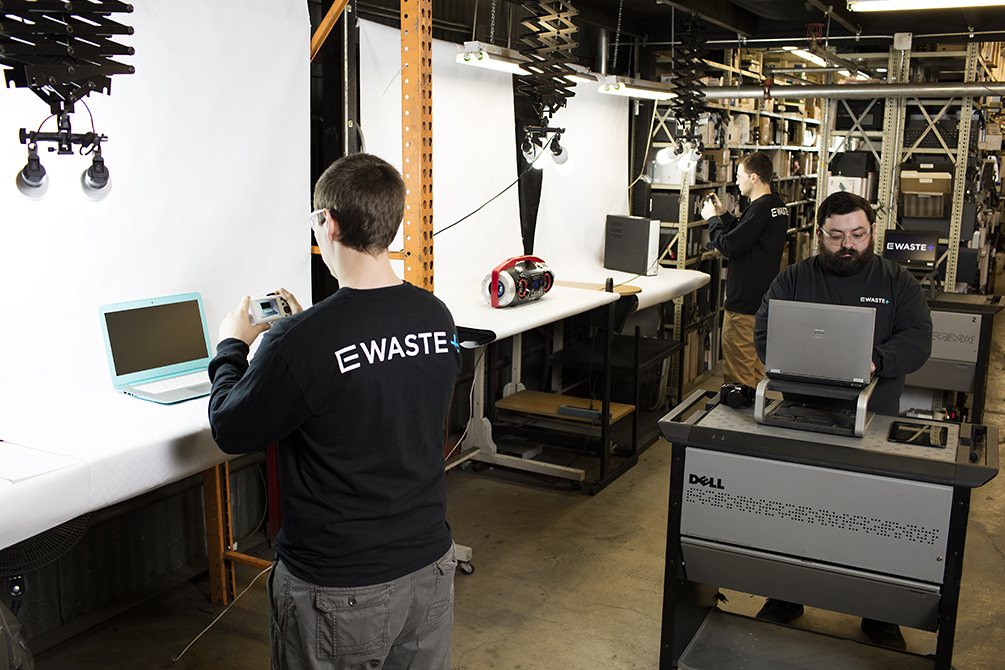 What People Are Saying About EWASTE+

I have been working with EWASTE+ for years and they have always been professional, reliable, and a real pleasure to work with all around.
Christopher Tucker | Property Services Manager at SUNY Cortland
Chain of Custody
EWASTE+ will provide you with a complete and documented Chain of Custody for your data-bearing devices.This chain of custody follows each asset from the point of initial pickup to their final disposition. Each link in the chain consists of robust quality control checkpoints ensuring your data is protected during every step of the process.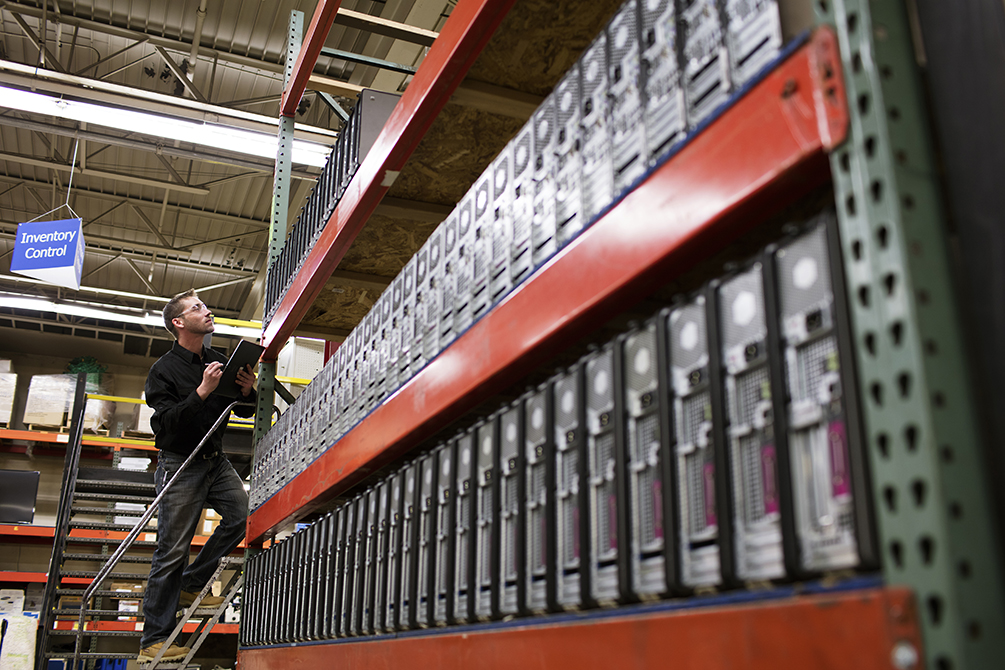 Certificates of Data Destruction
EWASTE+ will provide you with a Certificate of Data Destruction along with a serialization report for your sanitized or physically destroyed data-bearing devices.
EWASTE+ is a New York State-Licensed and NAID-Certified Data Destruction Specialist.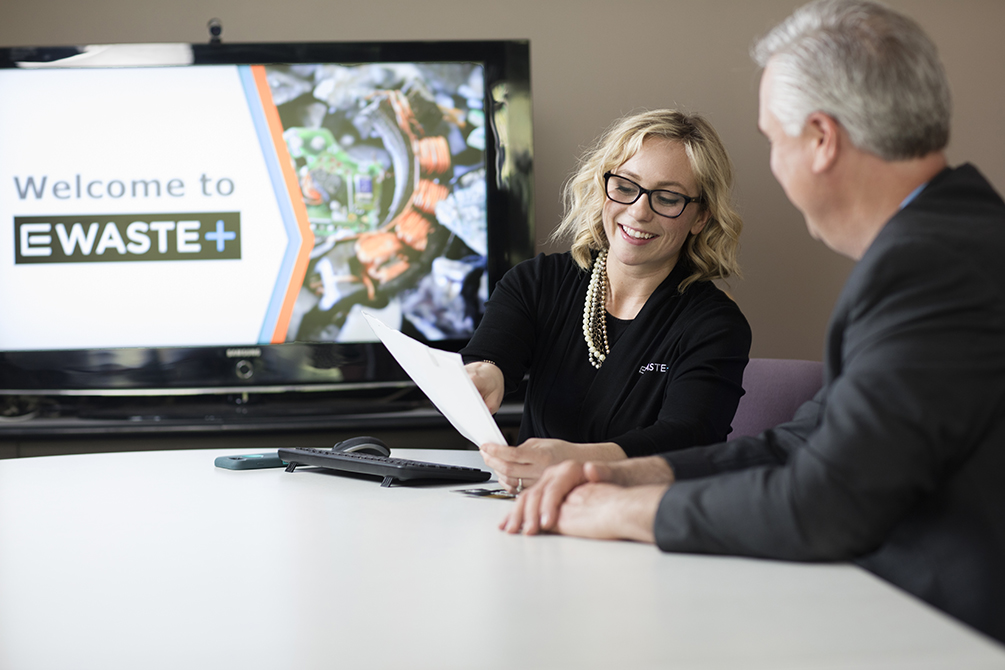 Equipment Tracking & Reporting
We will work with you to develop a customized equipment tracking plan that meets your specific requirements. Our robust ERP system allows customizable services and creates a unique lot tracking number for each individual pickup and an individual asset ID for every serialized item.
Our lot tracking system allows us to manage and verify our promise to you – a secure chain of custody from the time your equipment leaves your facility until its final disposition. For every NAID certified lot, you will receive an Inventory Summary Report and Certificate of Recycling, as well as a NAID Certificate of Data Destruction for all applicable assets that we process on your behalf.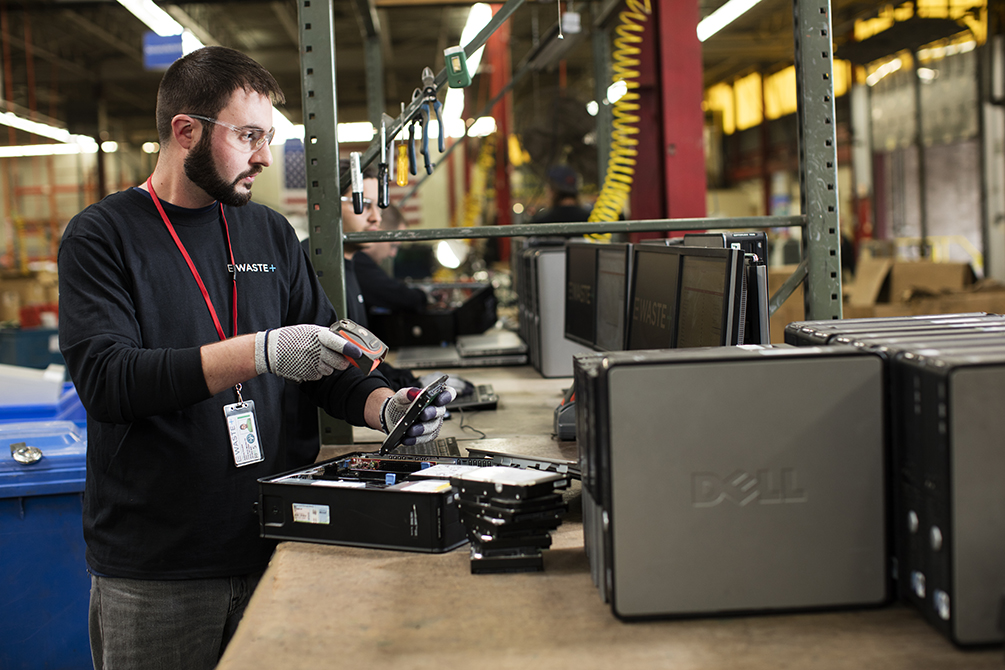 Equipment Pickup & Logistics
Our logistics team is outfitted with a fleet of box trucks and tractor trailers equipped with GPS vehicle tracking and two-way mobile communication devices to improve routing capabilities and maximize customer service.
Your company's requirements are different from any others, we will work with you to develop a customized equipment pickup and logistics plan that meets your specific needs. Our logistic capabilities range from one pallet to a full tractor trailer load, and any size in between. Our skilled drivers will be there to securely and safely remove your used electronics.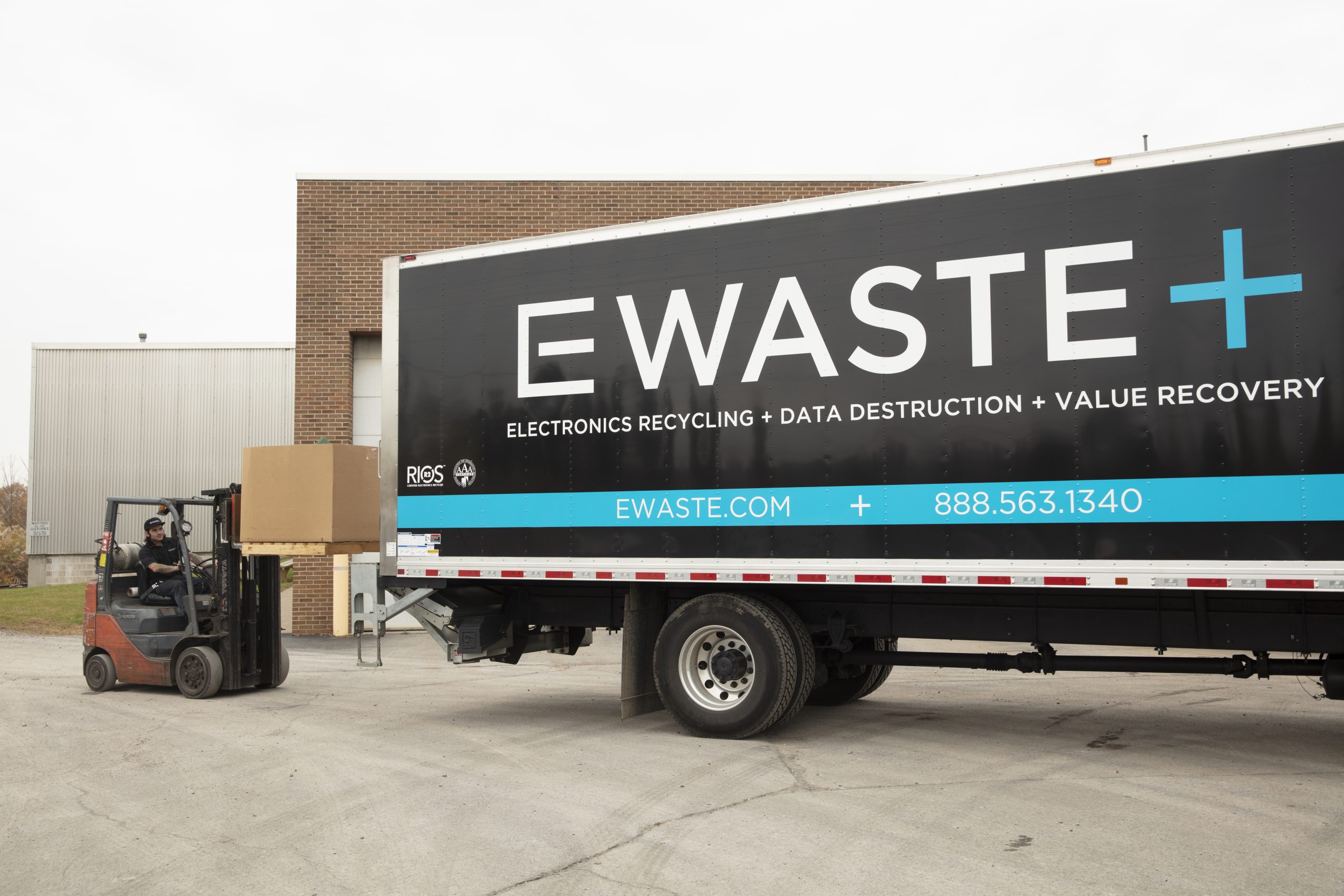 Importance of
Data Destruction Services
With data protection and privacy laws (i.e. FACTA, HIPPA, the NY SHIELD act), secure data destruction is important for businesses and organizations of all sizes.
Data destruction helps to protect the confidentiality of your data and ensures that your organization is compliant with data privacy laws and regulations.
NAID Certified Data destruction also helps to protect the environment by preventing electronic waste from being incorrectly disposed of in landfills or other improper disposal methods. Learn More >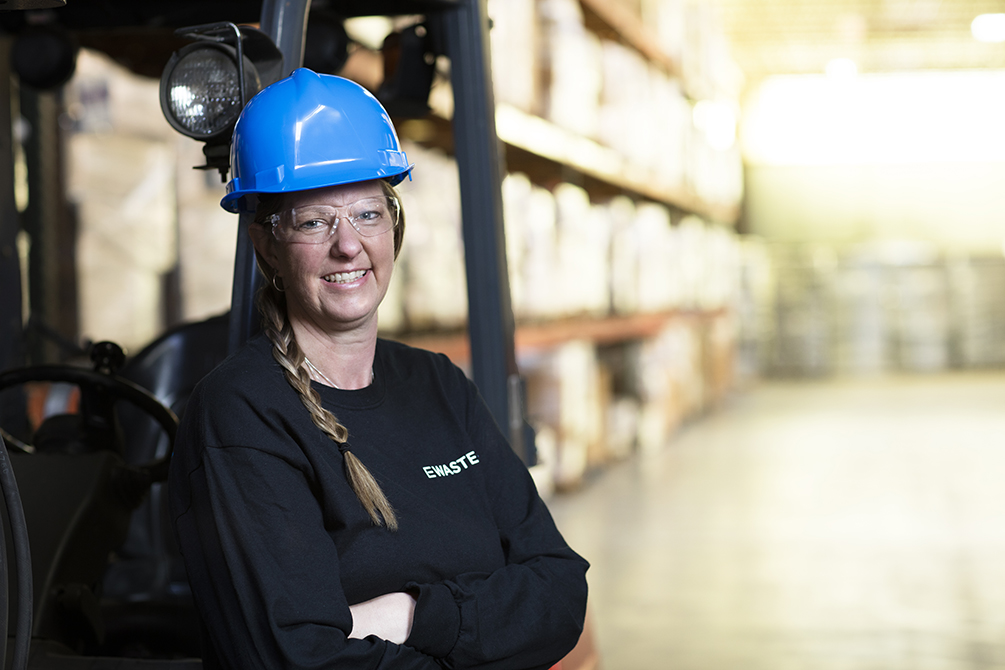 Here are some of the benefits of working with a certified data destruction company:
Improved Security
Improve the security of your organization by ensuring that confidential information is never exposed.
Reduced Risk
Reduce the risk of data breaches and other risks associated with data storage.
Compliance
Ensure compliance with data privacy laws and regulations.
Environmental Protection
Working with a R2/RIOS certified company helps to protect the environment by preventing electronic waste from ending up in landfill sites.
Peace of Mind
Find peace of mind by ensuring that your data is destroyed and cannot be retrieved by anyone.
Methods to Destroy Data
There are many ways to destroy data, including, sanitization, and physical destruction. Some of the methods EWASTE+ utilizes include:
Sanitization is the process of permanently removing data from a storage device. Sanitization ensures that data is completely erased utilizing software that overwrites each sector of the hard drive. . The storage device is then verified to be free of any data by a second trained and certified technician to ensure the erasure is successful. Sanitization is by far the most environmentally responsible form of data destruction.
Physical Data Destruction is the process of physically destroying a storage device by a means of mechanical separation, commonly referred to as shredding. Hard drives and media are physically deformed rendering data retrieval impossible. Physical destruction ensures that data is completely destroyed and cannot be recovered by anyone.
Understanding the data destruction process is important for businesses because it helps them choose the right data destruction method for them and their organizations.
Why You Should Choose EWASTE+

for Your Data Destruction Needs
When choosing a data destruction company, it is important to consider the following factors:
Certification and Accreditation
EWASTE+ is a certified data destruction company with more than 27 years of experience in data destruction and data security.
We're a New York State-licensed, R2/RIOS™ certified, and NAID certified Data Destruction Specialist. This means that we are certified to destroy data in a way that meets the highest environmental and security standards. We use the latest data destruction technology to ensure that your data is completely erased and cannot be retrieved by anyone.
We make your job easier by having one point of contact. If you have any questions about scheduling a pickup, materials we accept , legislation, our process, and more, you speak to one organization.
EWASTE+ is the trusted data destruction partner for thousands of businesses and organizations.
We offer a full suite of data destruction services that are designed to protect your organization from risk.
Contact us today to learn more about our data destruction services.