We believe our employees are our greatest asset.
---
Meet Paul Rachow
Position: Asset Management Technician
What's your favorite EWASTE+ Tradition?
The Chili Cook-off!
What do you listen to on the way to work?
I listen to 99.7 FM, The Word.
What's your favorite thing to do at work?
My favorite thing to do at work is tell terrible dad jokes and make awful puns to brighten up my co-workers' days.
Do you have any advice for new employees?
Show up on time. Ask questions. Be friendly and treat others with respect. Do your job and do it well. And have fun!
What's one valuable lesson that you've learned since working at EWASTE+?
Don't be afraid to speak up. If you want something, ask for it. If you have an idea, share it. If you want to learn and grow, request it. And when mistakes happen, don't deny it. Be honest with others and yourself.
---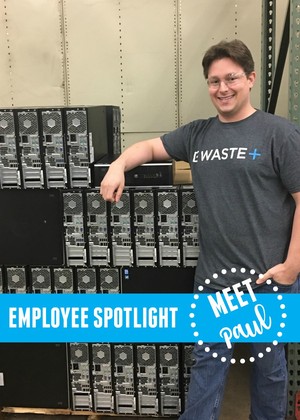 In business, it's important to find people you can count on. Paul is one of those reliable employees. Thanks for all your hard work, Paul.

Justin Kubasiak (Product Supply Chain Manager)