WE BELIEVE OUR EMPLOYEES ARE OUR GREATEST ASSET. THROUGHOUT 2018, WE'LL BE PROFILING THE PEOPLE OF #EWASTENATION. GET TO KNOW OUR PEOPLE… GET TO KNOW EWASTE+.
---
Meet Ben Rogers. Ben has been with EWASTE+ since 2016.
Position: Packaging
What's your favorite EWASTE+ Tradition?
I would have to go with the Chili Competition. Everyone creates and brings in different recipes, and it's fun to be able to try everyone's take on chili. They are all really good so that's a plus too!
What do you listen to on the way to work?
My drive to work is so short, that I usually forget to put music on…When I get to work however, I get to listen DJ Crane.
What's your favorite thing to do at work?
I look forward to chatting with coworkers each day. Everyone here is super friendly and easy to talk to.
Do you have any advice for new employees?
Don't try and learn everything at once- it will be too overwhelming at first. Don't forget to ask questions!
What's one valuable lesson that you've learned since working at EWASTE+?
Always double-check your work!
---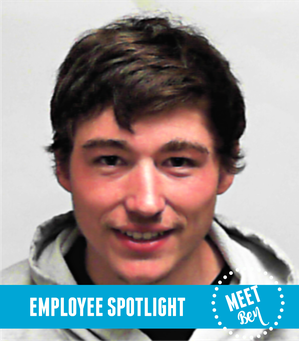 Ben is a hard worker and an easy person to get along with. I am very lucky to have him on my team. PLUS, I will always get my fill of sports talk when I work with him.

Pete Cooper (Packaging Supervisor)
GREAT JOB BEN!!!!!!! ?
#EWASTEnation
www.ewaste.com/careers/