VICTOR, NY – EWASTE+, a leading provider of electronics recycling and IT asset disposition (ITAD) services in New York State, recently became the first and only business in the United States to achieve the NAID AAA Certification for Solid State Device (SSD)  Sanitization and Destruction.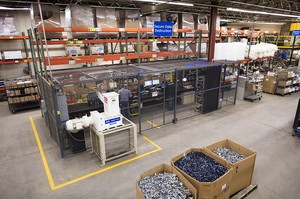 "EWASTE+ was among the firms calling for NAID to add SSD erasure to its sanitization certification," says association CEO Bob Johnson. "It was no surprise they were ready once we expanded the program. It takes fearless industry leaders to put itself up to our standards and our level of scrutiny."
According to Mike Whyte, President of EWASTE+, "Including the NAID SSD Sanitization Certification to our service portfolio really sets us apart from the competition; and frankly raises the bar for all service providers in the ITAD space. EWASTE+ always strives to provide clients with a high level of service; which they expect and deserve. When a client recycles their old smart phone, or other SSD device with EWASTE+ they have the option to choose either media sanitization of physical data destruction services under our upgraded NAID Certification. Our NAID Certified data destruction and sanitization process is the most trusted, comprehensive, and secure service offering on the market– ensuring full chain-of-custody reporting every step of the way."
Since 1995, EWASTE+, has become the trusted electronics recycling partner for a variety of organizations that value the importance of a secure, safe and transparent process. EWASTE+ offers a full spectrum of technology life cycle management services with a focus on electronics recycling, data destruction, and value recovery.
The National Association for Information Destruction (NAID) is the non-profit trade association of the secure destruction industry, which currently represents more than 1,900 member locations globally. NAID's mission is to promote the proper destruction of discarded information through education and to encourage the outsourcing of destruction needs to qualified contractors.
For more information on EWASTE+, please visit EWASTE.com or contact Casey Burke, Marketing Manager at 888-563-1340 x119.
###