To Our Valued Customers, Partners, and Vendors:
2016 marks our 21st year in business as Regional Computer Recycling & Recovery. Our company name and "RCR&R" logo have served us well for over two decades but we've decided it's time for a change! We're thrilled to present to you our new brand and completely updated website.
GOING FORWARD, WE ARE EWASTE+ AND YOU CAN FIND US AT EWASTE.COM.
Our New Brand
EWASTE+ represents all that is positive about our company and our industry – it's innovative and clear – and visually points to the diversity and optimism of the electronics recycling business. Our logo has evolved from a "memorable" embossed ellipse (with too many R's) to a modern mark that promotes our positive outlook for our wonderfully dynamic industry. We are electronics recyclers at heart; it's in our DNA, but we are so much more! We are Value Recovery innovators, Logistics experts and certified Data Destruction professionals – we are a dedicated team of specialists working for you and with you in an industry that we love.
Our Updated Website
EWASTE.com has been our website since the early years – it's not only a valuable URL it's also an obvious "go-to" website name for anyone interested in the dynamic world of EWASTE. We've redesigned our website to improve and enhance the online experience for our customers, partners and vendors. Our goal is to present a clean and organized platform with the right balance of imagery and information. The architecture of EWASTE.com is designed to showcase our service offerings, our team, our facilities, and our process and to ensure the information you need is quick and easy to find. But most of all, we hope our website is an eye-opening experience that will help demonstrate to you why we're so passionate about our business, our industry, our people and YOU!
Please explore www.EWASTE.com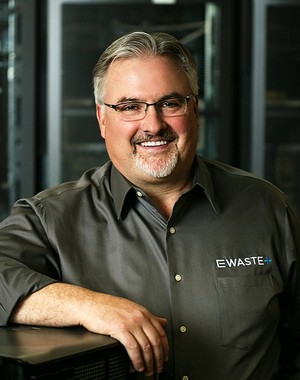 Same Company, Same People –
BRAND NEW LOOK!
Thank you for your business and we look forward to your feedback.
Sincerely,
Michael J. Whyte
President
---
Please click below for additional facts and information regarding the EWASTE+ brand launch.